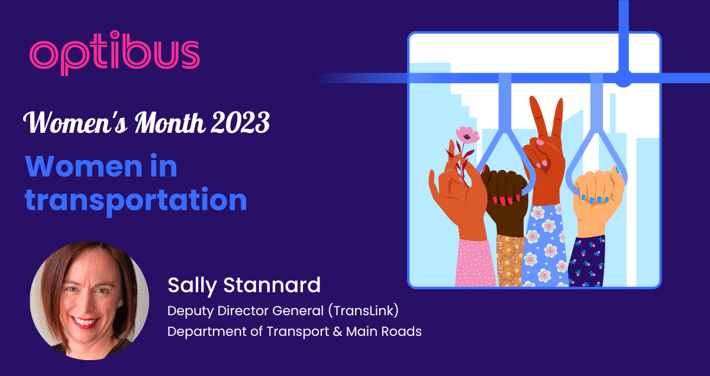 During Women's Month, Optibus celebrates some of the great women around the world who are making public transportation better and succeed in the incredibly complex task of keeping our cities moving efficiently and sustainably.
In celebration of International Women's Month, we spotlight some of the most remarkable women who have left an indelible mark on the public transport industry worldwide.
We had the honor of speaking with Sally Stannard from Australia, who has been transforming customer-focused passenger transport services and environmentally sustainable transport, having served in various roles including her latest one as Deputy Director General (TransLink) at the Department of Transport and Main Road in Queensland.
Sally is a trailblazer in the Australian public transport sector, who has broken stereotypes and proved that women can indeed have it all. She has been successfully managing the challenge of balancing her career aspirations with her roles as a wife, mother, and active community member. With a great passion for her career, she has persevered through the male-dominated field and is now a driving force in the public transport industry. Sally also recognizes the need for greater gender diversity and work-life balance in the workplace.

Join us in this interview as we get to know one of the most influential women leaders in Australia and learn more about her journey and vision for the future of public transport.

Background
Sally leads the delivery of customer-focused passenger transport services across Queensland including policy, planning, ticketing, contract management, and customer services. Sally is passionate about public transport and developing sustainable communities and strives to deliver meaningful outcomes for the district to make it easier for everyone to participate in employment, education, and recreation.

Tell us about yourself. Is there any fact about your career that has been less known?
I really value the experience that I gained from working as a Director on school and health boards. I was able to add value to these two sectors, by sharing my knowledge about transport and infrastructure. It gave me a great appreciation of the importance of engaging professionally with people outside of my own industry and area of expertise. Wide networks challenge our thinking and help us innovate.

Can you share some main challenges (if any) you encountered throughout your career as a female leader?
For me, the desire to 'have it all' has been a challenge in my life. I have always been passionate and focused on my career but I also wanted to be a great wife, Mum, and member of my community. This is a real juggle for not just me but my husband as well. We share responsibilities for pick-ups, drop-offs, and sporting events and sometimes these worlds collide. It's great to know that great employers now understand that flexibility allows us to bring our whole selves to work and be our best selves in all those spaces.

Can you share some gender demographics for your organization? Do you see any changes over the years?
Since I started Civil Engineering with 20 females in a cohort of about 200, I have definitely found more women in the workspaces I work but I know it is not everywhere. Working full-time is also not for everyone anymore. We need to blend our workplaces so we call all thrive in life and at work.

Is there any theme of transportation that you advocate the most? Can you please elaborate?
My passion for public transport is about how public transport unlocks access to great opportunities and places for everyone. When I saw firsthand the impact public transport can have on job seekers I knew this was a space I could make a difference that would matter. Since then, I have also become passionate about protecting the great places we have. The opportunity to really shape our cities and regions now for the growth that is coming in the future, and for the Brisbane 2032 Olympic and Paralympic Games is a real driving force. Decarbonizing the network through zero emissions technology, and implementing new technologies to enable easy and accessible public transport for everyone is my focus.

What advice/tips would you give to young women who would like to have a career in the industry?
When I meet people in the early stages of their careers, I like to speak to them about the benefits of growing and developing their professional networks. I have found it to be important because people move into other spaces, and you tap into these relationships later in your professional life.
Women have a unique way of connecting and, increasingly, I think we are recognizing that having me succeeding, and you succeeding goes hand in hand. I think there is also a growing awareness that diversity makes for better outcomes for everyone.

Summary
Sally's impact and influence are undeniable, as she has broken down barriers and paved the way for more women to enter executive/C-Suite roles in a heavily male-dominated field. We are grateful for the opportunity to hear her experience, insights, and vision for the future of sustainable transport.

Did you also see the other episodes of our interview series in which we interview women who are making public transport better around the world? Find them in our blog overview.