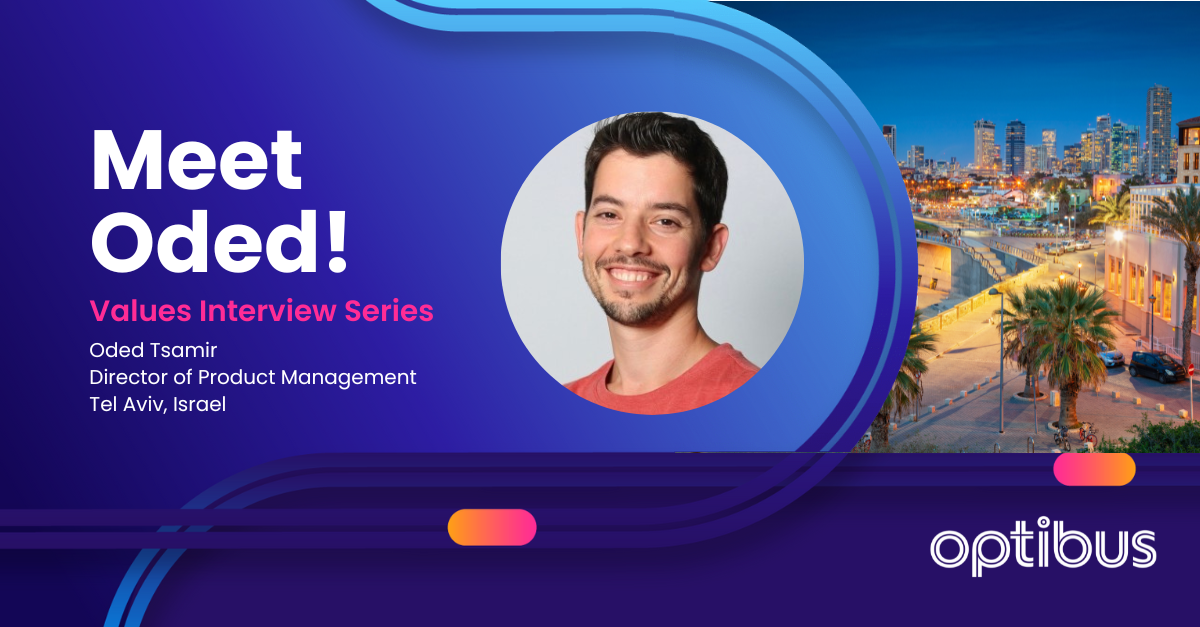 What set of values makes you connect with your company and appreciate your job?
At Optibus we have defined our values, to ensure we preserve our core principles alongside our global expansion. It took months of exploration amongst various groups of Optibus employees to get it right and be able to answer those questions: What makes Optibus special? What connects us? What drives us? The findings are four words: DETERMINED, CARING, INNOVATIVE and IMPACTFUL. But because four words alone cannot tell the full story behind them, we thought it would be best to let our employees tell us more about it.
Today, Oded Tsamir, Director of Product Management, shares some of his insights with us.
----------------------
What is your job at Optibus and what is a typical work day like?
My job is leading all of our product lines and the entire product management department including product operations. A typical day of work has changed a lot over the past few years as we grew from 5 PMs to 11 PMs working in 3 product groups on multiple products. Today I'm focused on strategic planning of our roadmap, constantly making sure we are moving in the right direction towards product-market fit in all regions, advancing strategic initiatives that will help us to scale and grow efficiently and working closely with the groups and other stakeholders to drive alignment and a culture of collaboration. I'm also heavily invested in building a top notch product team and keep improving as a team.
Why did you want to work at Optibus in the first place
I actually wasn't familiar with Optibus, it was a small company when I started. When I first met Ram and Amos*, it sounded like a perfect match with what I care about - a place that has the potential to make a huge positive impact on the world, exciting technology that solves some of the biggest problems of public transportation and some very nice people. Honestly, it sounded too good to be true, so I asked to speak with the CTO and Co-founder, Eitan, to understand if it's real. After that call, I went all in.
*Ram Greenberg is VP Product at Optibus, Amos Haggiag is CEO and Co-founder of Optibus
What do you enjoy most about working at Optibus?
I think it's a combination of doing really impactful things that actually move the needle, getting the trust and the space to do that and working with some extremely nice people. I also really enjoy when I get to see the impact of things that we built, or when a customer comes back to us to say that it changed the way they work.

Which Optibus value resonates with you most and why? (Determined, Innovative, Caring or Impactful)
I have a very strong connection with all four and I was also involved in suggesting them among many other potential values. If I have to pick two, I would go with impactful and caring. At the end of the day, we are all here to create an impact, this is what makes me tick. The upside of better public transportation is so big - for the climate, for public health, for accessibility to education and employment. And I believe that caring about what we do, caring about the product and caring for the people who work so hard to make it a reality is the best way and the right way to create the impact we want.
What are you passionate about outside of work?
I am very passionate about the environment and fighting climate change. I strongly believe that climate change is the biggest problem of our time and it's not enough to hope for things to get better. We need to be very proactive in stopping it.
Can you share an anecdote that describes how the values are reflected at Optibus?
Before we build new products, we always spend a lot of time speaking with our customers and prospects. We want to really understand the pains and their biggest challenges. We don't want to invest in "nice to have" stuff. We also spend a huge amount of time prioritizing between the already very impactful things we came up with just to make sure we are truly creating something that is truly impactful.
What challenges have you faced in your career, and did the values we share help you overcome them?
Several years before I joined Optibus I was an entrepreneur. My startup was to develop a first product for safe and accurate Epidural placement using a new type of sensor. Each time we zoomed in on a specific technology for the sensor, it didn't work well. We pivoted 3 times before we were able to find the right solution. Eventually, we did, and it was so much better than all of the previous ones. But it required a hell lot of determination and innovation to get there…
What's one thing you wish someone had told you when you were at the early stages of your career?
I wish someone had told me back then that the 3 most important things to look for in a place of work are: doing something meaningful, healthy culture and continuously learning new things and evolving. These 3 are more important than salary, title and other stuff.
Any hobbies in life?
Definitely volleyball :)
----------------------
At Optibus, we are determined to create innovative products that have a positive impact on the world because we care. If these values are yours too: Come join our team! Learn more at https://www.optibus.com/jobs