Smartphones make it easier for everyone to discover, access, and use public transportation. But only if transit navigation apps have complete, high-quality transit data. General Transit Feed Specification (GTFS) data enables the exchange of transit data between transit agencies, operators, departments of transportation, vendor systems, and trip planning apps around the world. This post is part of Optibus' ongoing series about GTFS. Further reading is linked at the bottom of the page.
Why does fare information matter?
Transit can be intimidating when you don't know what to expect. And transit fares are not always straightforward. How much does a trip cost? Or a day or month pass? Can I pay with cash? A credit card? Can I use my smartphone? Are there any discounts for children or persons with disabilities? Complete information helps every potential passenger answer these questions quickly.

How to show fares in transit apps?
A GTFS Schedule feed contains core (required) elements, including stops, schedules, routes, and calendars. It may also contain optional extensions to provide additional functionality in applications that use GTFS. The GTFS-Fares v2 extension has greatly expanded the capability of GTFS and GTFS applications to communicate complete transit fare information.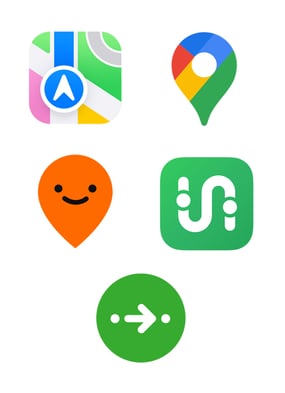 The GTFS-Fares v2 extension is maintained by MobilityData and developed by the broader transit data producer community, which includes Optibus. It is an update from the first version of the GTFS fares specification, which represented standard (non-discounted) cash fares for only a handful of fare structures.
Fares in Apple Maps, enabled using GTFS-Fares v2
| | | |
| --- | --- | --- |
| | | |
| Flat fares | Zone-based fares | Fare media product (Clipper) |
Fares in Transit App - Duluth Transit Authority (DTA)
GTFS-Fares v2 can now represent:
Fare structures to determine the cost of a trip, including:

Network-based and zone-based fares, where the fare depends on which route or stop a rider uses

Distance-based fares

Rules for transfers, including surcharges

Fare capping, which makes transit more equitable and convenient for all
Rider categories represent different prices (discounts) for people who belong to certain groups such as seniors, persons with disabilities, and children.

Fare products include timed passes, such as day/month passes, and ticket packs.

Fare media that includes transit passes, paper tickets, magnetic tap cards, and contactless bank cards. This allows for different products and items to be used for transit payment, not just cash.
How does Optibus help?
Optibus was one of the early data publishers supporting GTFS-Fares v2 data. We actively facilitated testing of the specification with industry consumers, such as Apple Maps and Transit App, and we remain an active participant in the Fares v2 working group to discuss and further develop the rules and features of the Fares v2 specification. Optibus has recently signed a contract to build GTFS-Fares v2 data for Minnesota (MnDOT), a ground-breaking project to make all types of public transit easier to discover and use in Minnesota. Get in touch if you'd like information on standardizing your fare data and making public transit easier to use.

Further Reading: