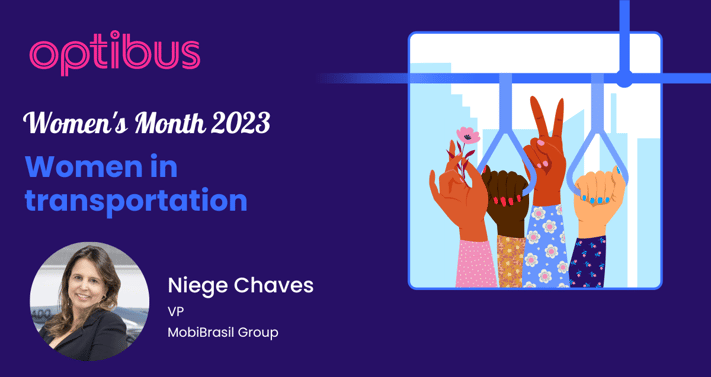 During Women's Month, Optibus celebrates some of the great women around the world who are making public transportation better and succeed in the incredibly complex task of keeping our cities moving efficiently and sustainably.
Today we are very pleased to present an interview with Niege Chaves, VP of the MobiBrasil Group, a public transport operator in Brazil. Niege Chaves brings an impressive amount of experience to the table. She is not only Vice president of MobiBrasil Goup - a public transport operator with operations in the cities of Recife, São Paulo and Sorocaba -, but also founding partner of Cittamobi, an application of technological solutions for mobility. Niege Chaves coordinates a team of 5,000 employees, with more than 1,000 buses on the streets, transporting approximately 550,000 people per day, and an average annual revenue of USD 155 M.
Background
Graduated in Business Administration in the Universidade Federal de Pernambuco, with a postgraduate degree in Quality Management in Services, Niege Chaves started working with transport and urban mobility in 1992. With a restless and innovative personality, Niege Chaves believes that success comes from dedication to always seek to do the best each day and the determination not to give up when obstacles arise. No wonder her philosophy of life is based on four Ds: Desire, Dedication, Discipline and Determination. Check out the valuable industry knowledge Niege Chaves shared with.
Ms. Chaves, it's great to have you! Tell us something people don't know about your career.
When I was very young, I drove the first company bus, it was a scandal, a breach of taboo. Then we began to see women in that position and in others in our company.
Can you share some of the main challenges that you have encountered throughout your career as a woman specializing in the mobility/public transport sector?
When I started, there were very few female entrepreneurs in the industry. However, I was always well received and learned a lot in this male environment. That was a school.
How do you see female participation in the sector and also in your area of work? Do you see any changes over the years?
We have evolved a lot over the last few decades. Today we have women driving buses, working in maintenance, coordinating men's teams, CEOs of transport companies, etc. I think that the female gaze has brought a lot of improvement to the sector.
What can we do for more women to have a career in the transport and/or mobility industry?
Continue encouraging and welcoming. I am very proud to see several women shining in the turnstile, including in the cargo sector as well.
What are the main transport issues that you most advocate and/or address most often and why?
I think the ESG will bring a lot of evolution to companies and the arrival of the Regulatory Framework* in Brazil will accelerate these needs. Electrification and technology are on the rise, they are very important issues. I understand that these two issues are inescapable, we need to train ourselves to face them. In fact, we are investing in a technology company that will help transform the sector.

*Editor Note: It deals with the restructuring of various aspects of the service model of Brazilian Collective Public Transport.
What drives you?
The purpose that these transformations will promote in the lives of people and cities.
What advice/tips would you give to young women who would like to have a career in this sector?
I believe in the philosophy of the four Ds: Desire, Dedication, Discipline and Determination!! This sector is exciting, we women can contribute a lot and our business can improve people's lives and mobility in cities.
What do you like to do outside of work?
Being with my daughters, my family and investing in technology for mobility, I am passionate about innovation.
Stay tuned for more upcoming interviews with women who make public transportation better - globally.