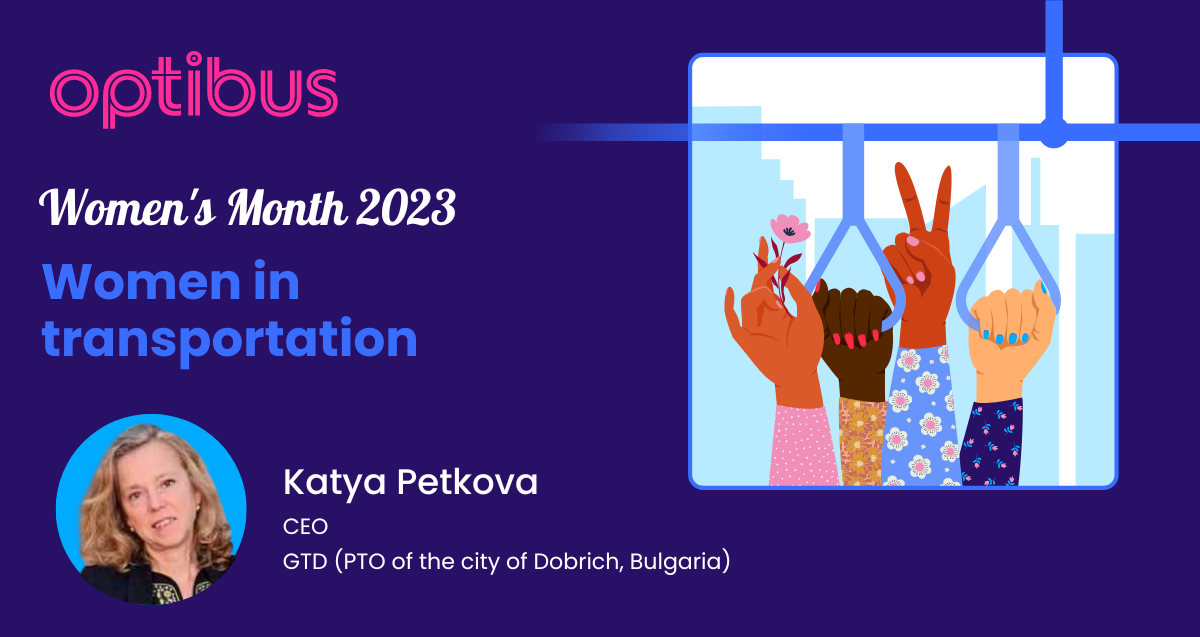 During Women's Month, Optibus celebrates some of the great women around the world who are making public transportation better and succeed in the incredibly complex task of keeping our cities moving efficiently and sustainably.
Today we are heading to Bulgaria where in 2019, Katya Petkova was the first woman to become CEO of GTD, the PTO (Public Transport Operator) of the city of Dobrich, one of the major cities in the Republic of Bulgaria. She believes that "Being an engineer requires a specific way of thinking that is needed to solve challenges. The solutions need to be backed by good financial arguments. Mix that with a vision and passion about an idea for the benefit of the community you serve and you'll get a great result".
Tell us something people don't know about your career?
I dreamed of being a doctor and spent years training to help people's physical pain. But life had other plans. I am happy to be at the service of society again, albeit in a different field.
Can you share some main challenges (if any) you encountered throughout your career as a female leader?
I have faced distrust on the part of men when it comes to making big managerial decisions. And yet, in my experience the positive approach, showing respect and valuing everyone's contribution to the team immensely mitigates and solves this problem promptly.
What is the ratio (high level) of women and men in your organization? Do you see any changes throughout the years?
As a leader, I always strive to ensure an equal chance for everyone to develop and manifest their maximum potential. For me, the abilities, qualities and ambition of each person are the most important. I believe that in the organization I lead we manage to achieve a balance in the ratio between men and women according to the interests of every single one of them. In a seemingly male profession, I rely on many women in management positions such as the chief accountant, the HR manager and technical team leader Elka Gocheva, for instance, who does the planning we need using the Optibus platform and also leads a number of ladies in our dispatchers team.
What are the main themes in transportation you advocate the most?
Undoubtedly, electrification and smart mobility will play an ever-increasing role in public transport networks in the coming years, and this is where we are also putting much of our focus at the moment.
What drives you?
For me, working for the benefit and interest of my community is of great importance. I believe that after more than a decade in which public transport in the city of Dobrich was not at the required level. With will, ambition and professionalism we are making a positive revolution for the benefit of the residents and guests of the city and for the public vehicle to become the preferred means of transportation for them.
What advice / tips would you give to young women who would like to have a career in the industry?
Love what you do! Don't let failure discourage you and never ever stop dreaming big.
What do you like to do outside of work?
I am a huge fan of fiction literature.
Thank you!
We hope you enjoyed Katya Petkova's insights as much as we did. Also, look forward to the next episodes of our interview series in which we interview women who are making public transportation better around the world. On Monday, we'll be heading to Brazil!