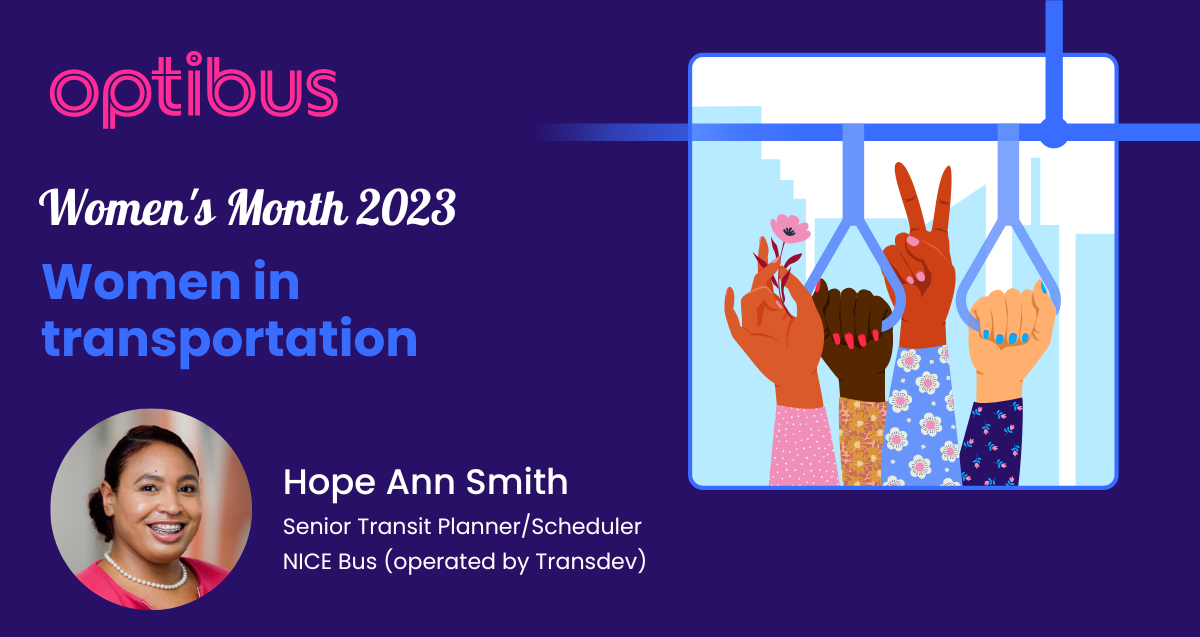 In honor of International Women's Month, we are highlighting some of the influential women who have played a significant role in the public transportation industry around the world. Planners, schedulers, administrators, and more these women have made a lasting impact on the way we travel.
We are delighted to feature Hope Ann Smith, who specializes in bus service planning/scheduling and OTP improvement. Hope has been in the industry for 12 years and has a unique insight into public transportation that she uses to shape the industry for a better tomorrow. In her own words, she says 'I want to use my experience to contribute meaningful change to the industry'.
Background
Hope Ann Smith is a Senior Transit Planner/Scheduler at NICE Bus, which is operated by Transdev. She's been with NICE Bus for 7 years and specializes in bus service planning/scheduling and OTP improvement. Her passion for transit started when she became a bus operator while still in college 12 years ago, and has gained an abundance of knowledge through personal and professional development over the years.
What drives you?
What drives me is having the ability to make a difference in the lives of riders. The stories behind each of our riders have moved me in ways that made me feel like this was the perfect career path for me. Each time NICE Bus receives commendations from riders about how we have eliminated one more obstacle from their daily lives, I feel genuine happiness and fulfillment. I enjoy being independent - and having the freedom to go anywhere I desire has allowed me to reach more goals than I could ever have imagined. I am determined to give that opportunity to others without sacrificing service quality or the rider experience.
What can the industry do to enable more women to have a career in transit?
I believe the industry should establish a formal curriculum in higher education to expose young adults, especially women, to the different types of opportunities in public transportation. I learned to operate 40-foot buses part-time for a student-driven/student-managed off-campus transit agency in college, OCC Transport, and it opened the door to a career I am really proud to have. I was fortunate to transition into leadership positions during my time with OCC Transport, and that is where I discovered that my passion lies in public transportation. The lack of knowledge on building a career in transit can be a deterrent when the perception of job availability in the industry is solely centered on physically driving a bus/truck or operating rail. The industry can also showcase the different career paths of successful women so that our women can envision themselves in transit in a way that honors who they are and who they ultimately want to be.
What are the main themes in transportation you advocate the most?
Two main themes in transportation that I advocate for the most are safety and equity. As a former bus operator, I am aware of the dangers of operating a commercial vehicle and the importance of safely transporting riders to their destinations. I place significant value on new safety features on commercial vehicles/rail cars that increase safety for both operators and riders. Equity in transportation is also very important, as every transportation system should allow passengers equal access to opportunities, despite their financial status or access to resources. I am a huge advocate for independency as it cultivates resiliency and character, and equitable transit opens the door to true independence and personal achievement. Everyone should have the freedom to achieve their goals, and traveling to do so should not be an obstacle.
What advice/tips would you give to young women who would like to have a career in the industry?
The first piece of advice I would offer is to learn as much as possible about every department of the agency or firm that you are interested in joining. Having a large knowledge base of how all of the pieces fit together can allow you to make impactful improvements in your role that you can be proud of.
The second piece of advice I would offer is to not be afraid of unconventional solutions to everyday problems – think outside of the box. There are several ways of solving a problem in transit so be courageous enough to try a new approach.
Lastly, I would say, be unique and do not lose your femininity in fear that you might portray weakness as a leader. The softness and gracefulness of being a woman allows for a powerful and well-rounded perspective that is unique and very necessary in transit.
What do you like to do outside of work?
I am a car enthusiast, so I enjoy going to auto shows to see different types of cars. I also play the piano, so I enjoy learning new melodies and playing for my family and friends.
Thank you!

We hope you enjoyed Hope Ann Smith's insights as much as we did. Did you also see the other episodes of our interview series in which we interview women who are making public transportation better around the world? Find them in our blog overview.