Vaccinations have started rolling out and in some parts of the world, life has gradually begun returning to a semblance of pre-COVID normal, while in others the infection rate is worse than ever.
So how long will it take ridership rates to return to pre-pandemic levels?
In an Optibus poll earlier this year, 67% of transit industry professionals said they do not expect ridership to return to pre-COVID levels before 2023.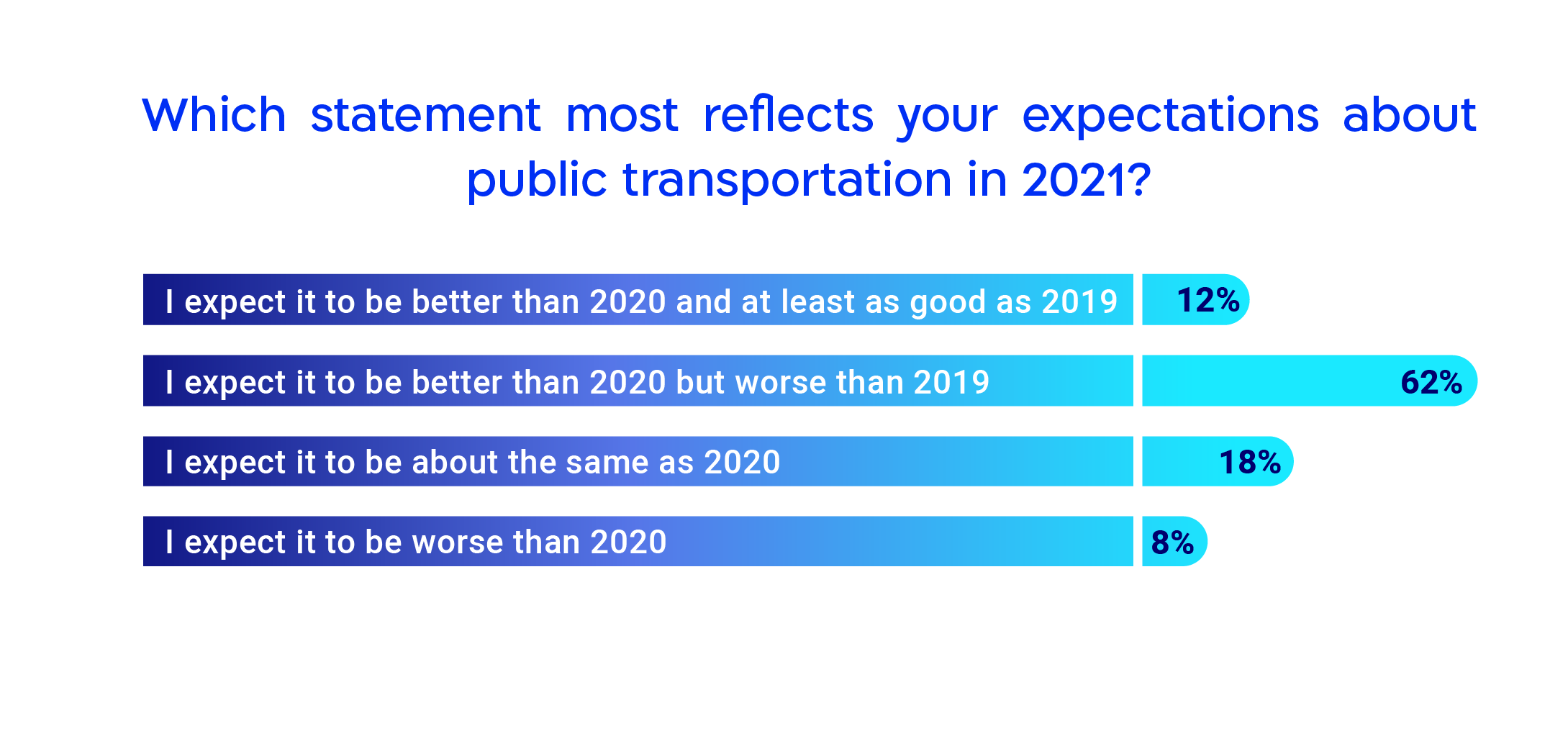 It's clear that there are several changes the mass transit industry must contend with:
People aren't going to the

same places

they used to

People aren't going there the

same days or times

they used to

People aren't getting to their destinations the

same way

they used to
Addressing these changes and reviving ridership will involve a combination of tactics, from instilling confidence in health and safety on mass transit to new and improved service offerings.
"We need to be able to provide what they need in the context of their lives right now," said Jack Khzouz, CEO of NICE Bus (Nassau Inter-County Express), a Transdev North America subsidiary. "Our lives have changed. We need to change with that."
You can discover more surveys and insights from industry professionals about the future of ridership in Optibus' new report, "Winning Back Ridership in the Aftermath of COVID-19."
In addition to taking a look at how and when ridership could return, the report addresses issues such as the biggest concerns facing the transit industry and the importance of improving service to make riders want to come back.
➤ Ebook: Scenarios Are King: Scheduling & Planning For The Social Distancing Era
➤ Webinar: Efficiency in Public Transport – How Can It Be Measured and Does It Matter At All Post-COVID-19?
➤ Blog: Under the Hood of Our New and Improved EV Module
➤ Blog: Grupo Ruiz Using AI Platform Optibus to Provide More Agile Transport Networks in Post-Pandemic 'New Normal'