On June 5th, we hosted a webinar with the Director of Planning and Scheduling at the Nassau Intercounty Express, Jon Feldman. A replay of the webinar can be accessed here.
Feldman began with an overview of the NICE (Nassau Intercounty Express) transit system:
38 bus routes

85,000 average weekday boardings
He expressed Nassau's unique position as a suburban transit system that connects with a large metropolitan area (New York City), making it one of the most productive routes in the US, both in terms of ridership and farebox recovery.
Additionally, while in many parts of the US transit responsibilities are divided between private operators and the transit agency/managerial company, NICE acts as the entire local transit agency as a result of their private-public partnership with Transdev.
Feldman and two coworkers are in charge of planning and scheduling of routes that require more than 400 bus operators who operate 276 vehicles, with four schedule changes (picks) each year.
Feldman identified 5 key pain points in the scheduling process and spoke as to how Optibus has resolved them:
Running Time Adjustment
Each time conditions change, for example traffic shifts or a new store opens, the time for a bus to get from Point A to Point B changes. Previously, Feldman had to manually analyze historical data to predict these running times, which could then be plugged into the schedule to generate trips and blocks. With Optibus, NICE will be able to anticipate running time and layover time problems through tools that analyze historical data via machine learning.
Vehicle Blocking
When allocating vehicles to drivers, Feldman had to manually input time blocks for meal breaks, often working with them in Excel prior to inputting them into their previous scheduling software. Now, NICE can input these meal breaks and other specifications as rules in the Optibus platform, which then produces schedules in accordance with them.
Stop Times
Prior to using the Optibus platform, schedulers had to regenerate stop times after any small tweak to their system, which is both inefficient and problematic if someone forgot to regenerate stop times after making a change. With Optibus, stop times are generated automatically.
Excel Sheets for Time Tables
Previously when producing customer timetables, schedulers had to manually format schedules in Excel to send to the marketing team. Now, it takes one click for schedulers to export an Excel document for the entire system.
Rosters
Prior to implementing the Optibus platform, rostering, the process of creating weekly packages for operators to bid on, was completely manual, often done by cutting and pasting inside of Excel. Having an optimization tool that helps Feldman assemble rosters allows him to focus on the more nuanced and analytical work of rostering, both increasing the efficiency of the process and making better rosters for his operators.
Feldman also provided statistics concerning efficiency improvements following the implementation of the Optibus platform. The new schedules saved:
7 peak vehicles

10 operator rosters

40 hours of daily platform time

A projected $1,000,000 savings over the first year
He differentiates between internal customers (operators) and external customers (riders). Previously, Feldman spent a disproportionate amount of time servicing internal customers over external customers as a result of the labor intensive work to generate operator schedules and vehicle blocks. By using Optibus' platform to increase the efficiency of the scheduling process, he can now focus on improving the experience of external customers, to provide better running times for the passengers using NICE's services.
Feldman visualized this change in time allotment: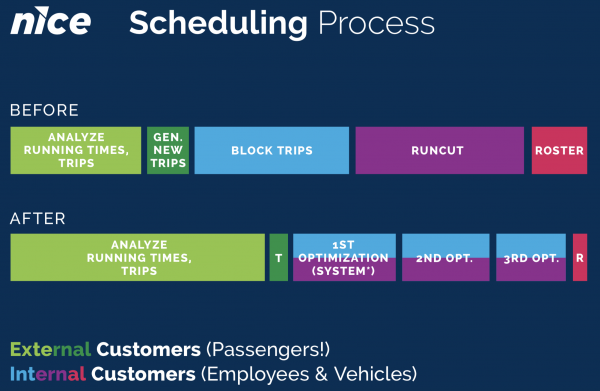 He concluded by emphasizing that its not only the efficiency Optibus provides that makes the tool stand out, but the quality of the schedules the platform allows him to create.
Following Feldman's presentation, Roni Floman addressed the changes occurring in the world of mobility and what next generation planning and scheduling tools do to address these changes. While smartphones and the GPS have driven immense innovation in the mobility world, the question remains as to what the underlying technology is that will drive disruptive innovation in the mass transit world. She then argued that when agencies and operators adopt digital transformation through the use of next generation planning and scheduling tools such as Optibus, they will have access to technology that will transform public transit and allow it to enter the age of mobility.
The webinar concluded with a short demo of the platform.