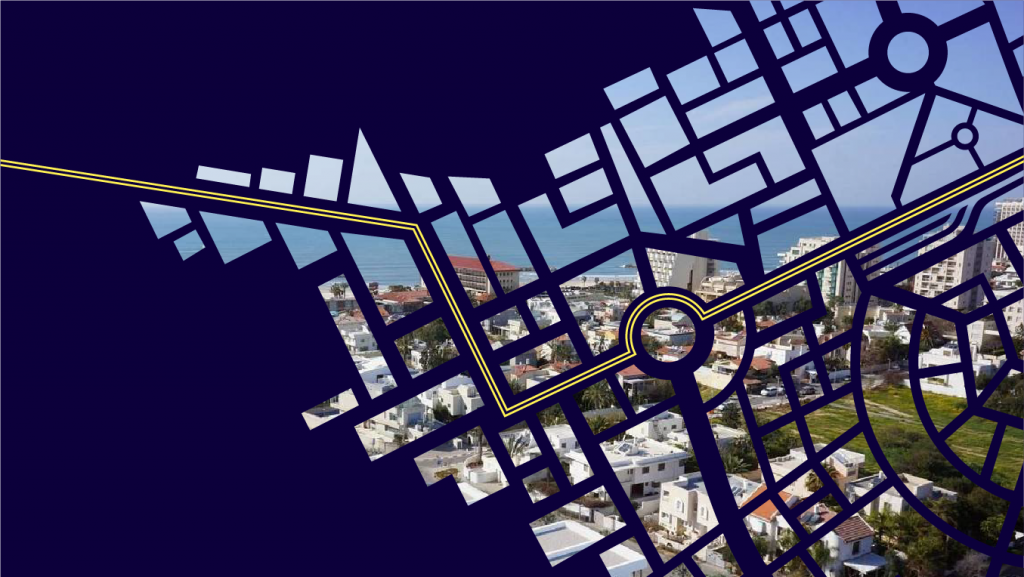 When the affluent Israeli coastal city of Herzliya, just north of Tel Aviv, was preparing to overhaul its bus service, urban planners and city officials were hoping to attract more passengers – maybe ridership would increase 10% or even 20%, they figured.
But the upgrade, led by transportation planner and Optibus adviser Dr. Robert Ishaq and using the Optibus platform to schedule the new routes, far surpassed those expectations.
It was so successful that Herzliya doubled its bus ridership within 12 months of launch, to over 117,000 boardings per month.

"With Optibus, we can create optimized schedules quickly and efficiently, so we can compare multiple scenarios and immediately understand the implications for our business goals, creating better shifts for drivers and saving on costs," says Roei Fried, VP planning and transportation at Metropoline, the operator that runs Herzliya's buses. "We're proud of being the strongest users of the Optibus platform in our local market, and we believe it gives us a strategic advantage."
Herzliya's high-tech employment area is one of Israel's largest. Its population of about 94,000 has a fairly high socioeconomic status and high car ownership rate.
These demographic factors might ordinarily have been blamed for low levels of passenger appeal. But the meteoric rise in ridership following the transportation overhaul that began in early 2018 indicates that the importance of high-quality bus routes and bus service should not be underestimated.
"You know, this is a case about doubling ridership, but you can also tell the story the other way around – poor route design lets you serve just 50% of your potential," says Asaf Kahana, head of public transit at Israeli infrastructure company Netivei Ayalon.


The overhaul was prompted by an event that may at first have seemed harmful to mass transit: the demolition of the city's central bus station.
Herzliya's central bus station served as the depot for all of the city's internal bus service after it was built in 1960. It served as a start and end point for most of the city's internal routes as well as the main stop for routes that pass through the city. However, since the central bus station was located at a prime location in the city, its owner decided to demolish it and replace it with a large office and commercial center.
Funding for the bus route redesign was supported by a government project aimed at increasing bus rapid transit (BRT) lanes in the metro area including Herzliya. The project was called Mahir La'ir, whereby the Ministry of Transportation provides funds that bolster public transit operations for each of the 17 municipalities that have agreed to inter-city bus rapid transit lanes in their jurisdiction (the emphasis was on unifying these 17 cities, to ensure that BRT lanes extend from one area to another and produce a noticeable change).

"This is a major source of funding," explains Kahana. "We knew this project requires good planning, since the benefits of public transit require operational investment rather than capital expenditures alone."
Herzliya's Old Transit Network
Before the route design, Herzliya's bus network consisted of nine short, unidirectional routes.
Ishaq, a transportation planner and researcher at the Technion Israel Institute of Technology, was hired by Israel's Ministry of Transportation (through Netivei Ayalon) to redesign Herzliya's bus routes. He says:
"When I began working on this, it was obvious that the existing routes in the city weren't healthy:
Routes were unidirectional and ran in semi-circles, so if you took the bus somewhere, you couldn't take the same route to get back to your origin. That is too confusing for riders.

The routes were very short, requiring a lot of transfers for passengers that needed to travel from one side of the city to another

The service wasn't frequent – lines ran every half hour or even hourly – and for some routes, operations stopped early – at 7 pm or 8 pm."
״But the biggest problem," says Ishaq, "was that the city had grown considerably since its routes were planned. As train service improved, people began going to and from the city's train station, but few buses got there. The high-tech employment center near the beach had begun to thrive, malls were added, land use was transformed and the city's population quadrupled. As a result, public transit routes weren't serving the city's population as they should."

BELOW: Herzliya's old bus routes are shown in the top map. The new routes can be seen in the bottom map.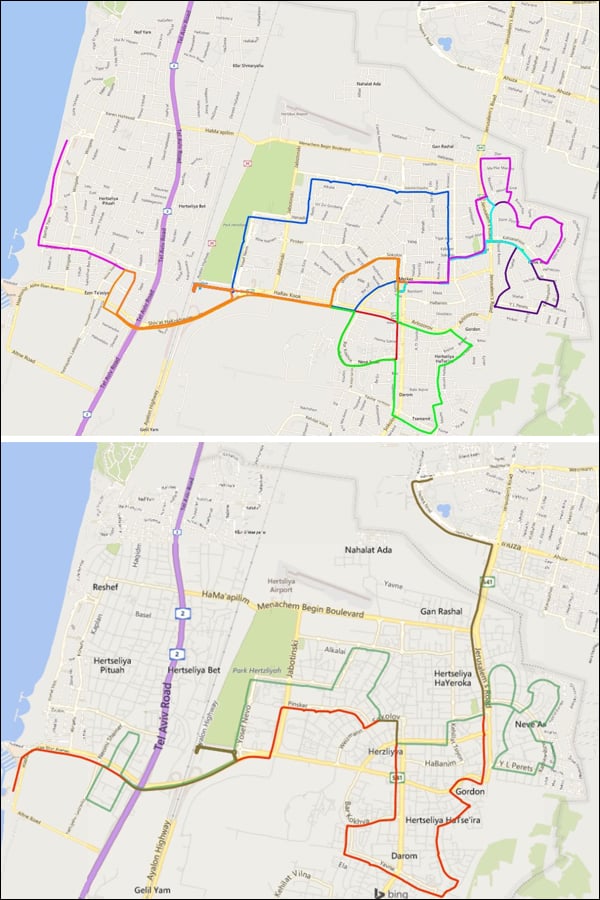 The Planning Process: A Map of 'Desired Lines'
To prepare for the demolition of the central bus station, Israel's Department of Transportation, through Netivei Ayalon, and the Herzliya municipality, together with Metropoline, the PTO that operates the service in the city, decided that this was an opportunity to revitalize public transportation in the city.
Ishaq says that it was clear to all stakeholders that the solution would focus on enabling more fixed routes and avoiding demand-based services: "I am a staunch believer in fixed-route service. If the fixed route is good, if it's frequent enough and runs for enough hours in the day, people will use it. When you give the public a fixed route with a fixed frequency throughout the day, they begin to trust the service and use it. They know they can go to the mall and return the same way, and that most hours of the day there will always be a bus for them. Ridership grows."
Ishaq says the city's map contains a lot of data as to where people want to go and how. "You can plan routes based on surveys and extensive data collection, but sometimes you can just look at the city's map and its public transportation and tell that something is wrong. This was the case with Herzliya."
"Before I begin planning, I need to understand the city. If you look at the city or one of its neighborhoods, you immediately understand what access public transportation should provide – to schools, cultural centers, medical centers, business centers, hospitals, as well as a rail station. This translates into a map of 'desired lines.' Finding what they are is fairly simple. Once we find them we have a goal: serving them well."
Netivei Ayalon's Kahana highlights the greater availability of buses as one of the guiding principles of the revamped transportation network.
"Several principles guided us in planning the new service," he says. "They were: lengthening the hours of operation, improving frequency and using two-way routes instead of unidirectional circular routes. This together with an emphasis on notifying the public about the changes – with the cooperation of the municipality – are what enabled our success."
The practical result was routes that run from 6 AM to 11 PM, had a minimum frequency of 20 minutes and routes that ran longer (crossing the city), yet their trip length didn't exceed an hour.
Eventually, the design resulted in the cancellation of the nine routes, replacing them with two longer routes. Together with the increased frequency, an average of 1,000 trips per week, representing about 10,000 kilometers a week, were increased to 1,600 trips per week, representing about 29,000 kilometers a week.
After the basic plan was built, Metropoline, the PTO that ran all Herzliya lines since 2010, was brought into the picture. At this point, the initial plan needed to be reviewed and analyzed, to understand the numbers of new buses and new bus drivers required for its operation.
Bus operator Metropoline was established in 2000 following the privatization of the public transportation sector in Israel. Today it operates lines in the central and southern districts of the country, employing more than 800 drivers on 500 buses.
"I truly believe that notwithstanding surveys and boardings data, the operator and the municipality know the routes and passengers best. By including them in the process we kept two lines and modified the plan. It was worthwhile listening to their advice," says Kahana.
"We received a basic plan and began validating it – checking the route length, the timetables and the resulting schedules as well as seeing what the existing passengers needed," says Roei Fried, VP planning and transportation at Metropoline. "To do this, our five-person planning team began creating schedules with Optibus."
Optibus' software-as-a-service (SaaS) cloud-native planning and scheduling platform leverages artificial intelligence and powerful algorithms to rapidly reduce labor, fuel and vehicle costs as well as improve passenger service and grow ridership for mass transportation operators and agencies. With the most intelligent platform in the industry, Optibus ensures an improved rider experience through expertly planned and controlled core operations. Optibus has been chosen by more than 300 cities to drive some of the most complex and large-scale transportation operations worldwide, streamlining operations while reducing congestion, emissions, and costs.
"It took us four weeks to create an entire schedule for the city," says Metropoline's Roei Fried. "This could not have happened with older scheduling platforms."
Using Optibus allowed Metropoline to "quickly and efficiently" create multiple optimized schedules. This allowed them to compare various options and select the one that works best for passenger needs and operational goals.
The KPIs and stats built into the platform also allowed Metropoline to "immediately understand the implications on our business goals, creating better shifts for drivers and saving on costs."
"Seeing this doubled ridership," says Fried, "is a great experience and very satisfying."