As part of Optibus' expansion in and commitment to the Asia Pacific (APAC) region, we are excited to announce the appointment of senior hires in India, Australia, Israel, and Japan! This local team will help tackling regional public transportation challenges, such as vehicle electrification and operational efficiency, using Optibus' tailor-made software solutions and optimization capabilities.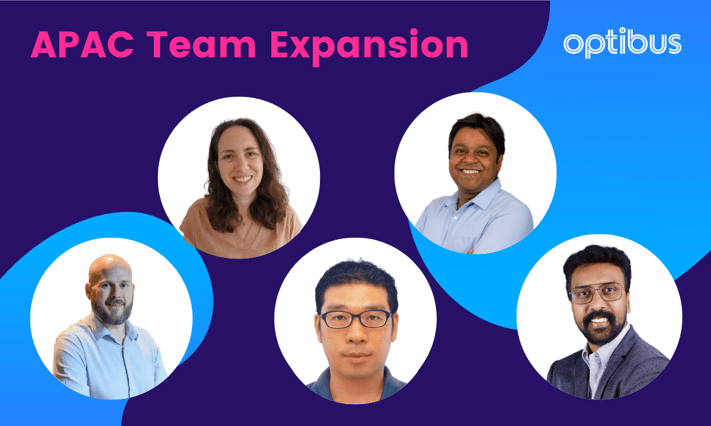 Oshima Hiroshi joins Optibus as Country Manager, Japan
Based on his 20 years of experience as a Country Manager for companies like Astea and Dilligent, as well as software sales experience at SAP and Oracle, among others, Oshima Hiroshi will play a decisive role in the expansion of Optibus in Japan.

"Optibus brings great technology to the public transportation industry and grows rapidly," he said about his move to Optibus, "I look forward to contributing to expanding this brand in Japan."

"The Japanese bus industry is facing multiple challenges – redesigning existing networks to better fit the aging population's needs, reaching cities' zero-emission targets and addressing upcoming changes to drivers working hours, to name a few. We're keen to bring our technology and help cities and operators future proof their operations and provide sustainable, cleaner service to their communities," said Shaun Bretstein, Optibus' General Manager of APAC.


Russ Yell joins as Optibus' new Regional Director of Australia and New Zealand

Russ Yell brings to Optibus 20 years of experience in the transportation and cities industry, with the last 10 years focused on advising on disruption in the mobility sector.

"Now felt like the right time to make the shift from consulting to being part of a product business and help connect customers with a product that I truly believe can revolutionise the public transportation industry in a new normal where customer expectations are ever higher, sustainability is paramount and value for money is essential," Russ summed up.

"Over the last years, we see more and more transport agencies in Australia and New Zealand promoting ZEV projects. We're keen to bring our expertise in this space to the region, helping both agencies and operators transform their fleets and provide sustainable, cleaner service to their communities," said Shaun Bretstein, Optibus' General Manager of APAC.


Nag Sharma and Polash Das join as new Regional Directors in India

Nag Sharma brings to Optibus over two decades of experience in selling large software applications for companies like IFS, Oracle, and Trapeze. He combines his understanding of the software and mobility industry with his experience working for local authorities, such as the Government of Andhra Pradesh, to provide solutions that customers need. The added value that Optibus brings to customers is the reason why he chose to join Optibus.

"It's a new-age technology product company such as Optibus that can easily solve the complex problems of India's bus corporations in India," said Nag.

With more than 12 years of experience working for the Indian government, Polash Das has been instrumental in rolling out a national program to deploy 5,500 electric buses for public transportation in India. Polash will play an important role in expanding Optibus in India.

"After leading the electric revolution of Indian public transport, it's time to drive the tech revolution. Optibus entered the Indian market at the right time, when public transport is transitioning to electric vehicles and is becoming increasingly open to adopting technology that improves operational efficiency. I'm excited to be a part of the Optibus team and look forward to expanding in India," Polash remarked.

"Our local team in India will enable Optibus to support our new customers in India, like Chartered Speed, as well as current developments in the industry. The bus industry in India is undergoing a massive transformation with the introduction of thousands of new e-buses, which will be rolled out in the coming years under the FAME II scheme. We see a growing need for a software solution, in addition to a hardware solution, to help STUs and operators optimize their mixed EV and ICE fleets. We're excited to bring our global experience in this space to the region, help cities and operators future-proof their operations, and enable the delivery of sustainable, cleaner services," said Shaun Bretstein, Optibus' General Manager of APAC.


Yael Brosh joins as Business Development Manager APAC
Yael Brosh has nearly a decade of experience in business development and selling in international markets. Her experience includes developing opportunities in multiple APAC markets including Southeast Asia, Japan and Korea.
"I'm very happy to be joining Optibus's team and look forward to supporting the company's growth in APAC. It's exciting to work with the public transportation industry on innovative technology to improve everyday experiences for their teams, and ultimately for all of us as passengers."
"As we're expanding our footprint in APAC, we have a growing need in developing new business opportunities in both countries we already operate in as well as new ones. Yael brings vast business development experience and will play an instrumental role in our penetration to new markets," said Shaun Bretstein, Optibus' General Manager of APAC.