On September 25th, 2023 Optibus and ioki facilitated a webinar with the title "Planning One Network: Combining fixed line and demand responsive transport into a single optimised network". Below is a summary of the key learnings of the webinar and a link to the recording.
Passenger centric public transport is the way forward
Passenger-centric public transport is the cornerstone of a thriving urban ecosystem. By placing the needs, preferences, and experiences of passengers at the forefront, it ensures that public transport is not only efficient but also inclusive and accessible. For cities aiming to achieve sustainability targets, public transport must become the backbone of mobility, which can only be achieved with a system designed with the user in mind.
A new era of customer centric public transport
In recent years we have seen a clear shift of public transport operators and authorities recognising the need to develop their services around their passengers and ensure holistic and modern customer experiences. We have seen the rise of public MaaS apps, multi- and intermodal mobility stations, country-wide flat fares, dynamic pricing and customer centric network redesigns. While the passenger experience comprises many building blocks, it is undeniable that one of the key factors in making a public transport system successful, is for it to serve all the trip connections that passengers might have.
Public transport offerings need to meet the travel demands of passengers
Public transport is more than just a mode of travel; it often serves as a lifeline that connects individuals to their daily destinations. For it to be truly effective, it's imperative that public transport offerings serve the trips people need to make, covering essential routes seamlessly. In order to achieve this, authorities, operators and technology providers need to closely collaborate while designing networks.
ioki and Optibus joined forces in a webinar to showcase how technology providers can collaborate to design integrated transport solutions as one network. The two presenters, Jon Usher, a Partnerships Director at Optibus, with 15 years experience in sustainable transport and Anna Filby, a Senior International Sales and Business Development Manager at ioki, specialising in innovative mobility solutions and digital strategies, presented how Demand Responsive Transport (DRT) solutions can integrate with fixed line bus services to ensure a seamless passenger experience and serve the mobility needs of passengers.
Four key learnings of the webinar
Only holistic and integrated network planning can serve passenger needs while staying efficient
The webinar emphasised the significance of combining fixed-line services with DRT to create a seamless, efficient, and sustainable transport network. Integrating fixed line services with DRT solutions is pivotal for a holistic and efficient urban mobility system. While fixed line services offer predictability and can handle large volumes of passengers on main routes, DRT provides flexibility, catering to areas with lower demand or those not covered by traditional routes. By seamlessly merging the two, cities can ensure comprehensive coverage, bridging the 'last-mile' gap and making public transport more accessible and attractive. Such integration not only enhances user experience by offering tailored transport options but also promotes sustainability by reducing the reliance on private vehicles and optimising the use of public transport resources.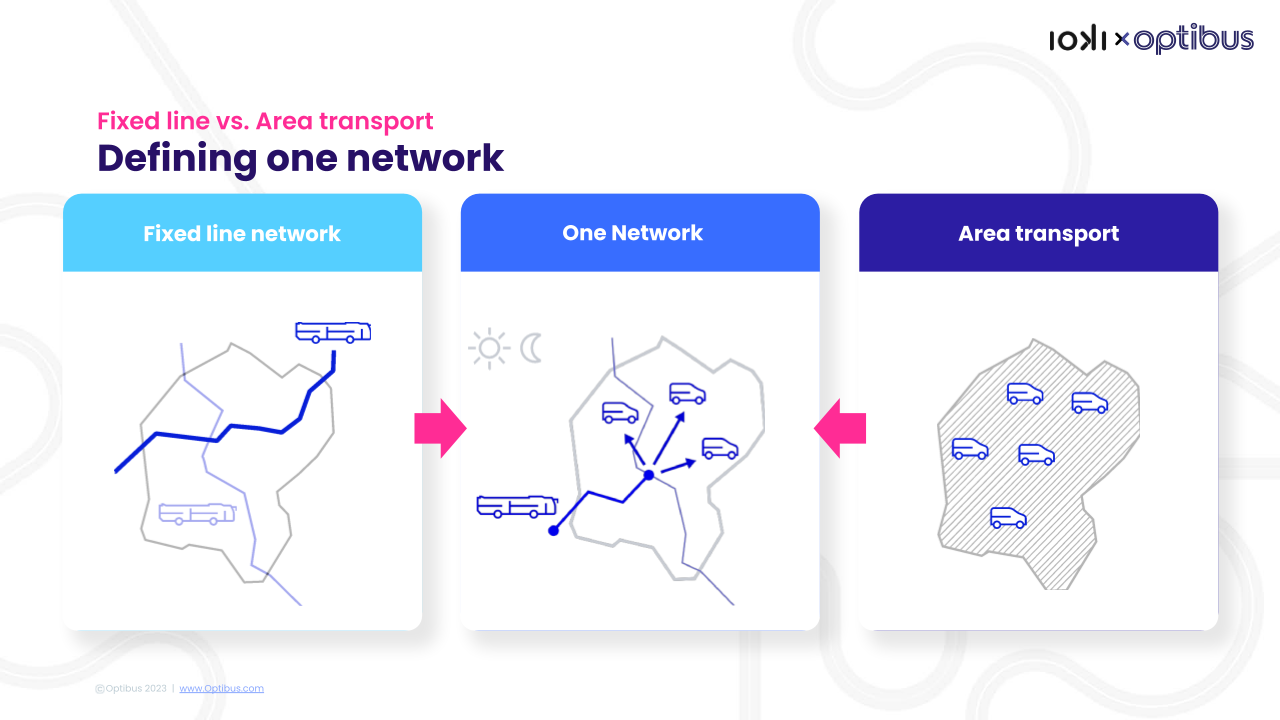 All available data needs to be connected and utilised while planning, to uncover trip demands
As in a growing number of fields, data plays a crucial role in the planning, optimisation, and management of public transport networks. Much of the data is already available and technology providers have built the tools to process various data sets. A poll during our webinar showed that our audience made up of public transport authorities, operators and consultancies had access to a variety of data, as visualised below.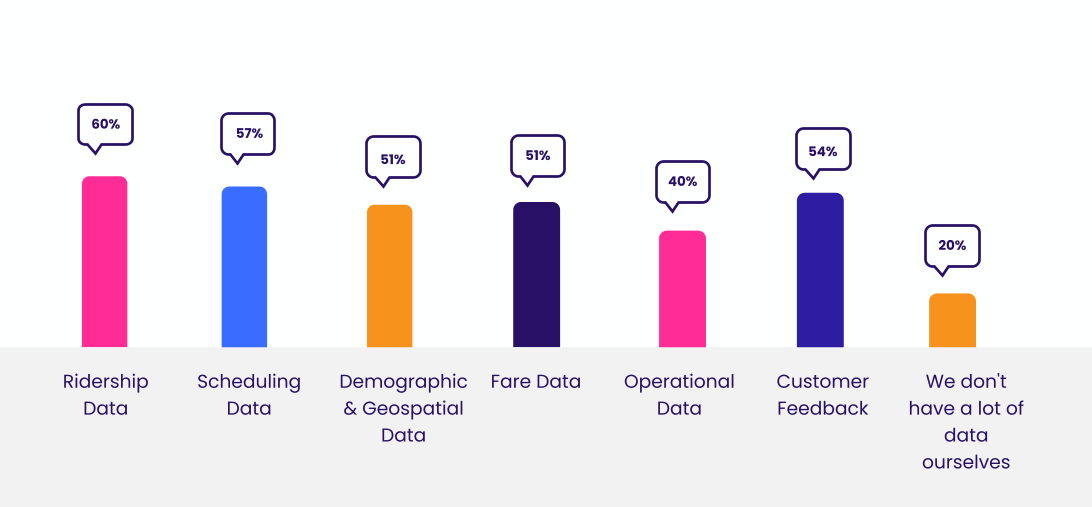 However, not all had access to all the data that would be needed to inform their network design and uncover relevant trip demands. Now it is up to the key stakeholders to remove the data silos and leverage the learnings from various data sets to enable informed planning decisions.
Technology is here to enable better planning and easier communication
Emerging technologies are revolutionising public transport planning, offering unprecedented insights and efficiency. Advanced data analytics, AI and machine learning enable a deeper understanding of passenger behaviours and travel patterns, ensuring services align with real-world demand. These technologies are here to solve existing challenges, as showcased in the webinar, including mobility analytics, scenario planning, operational simulations and optimisations to ensure the highest efficiency.
Collaboration and Partnership across stakeholders is essential
The importance of collaboration in public transport cannot be overstated. As new technologies emerge and passenger needs evolve, collaborating across industries and companies becomes crucial. Among others, resource optimisation, knowledge sharing and data integrations can accelerate the holistic planning of transport systems. The partnership between ioki and Optibus is only one example of how stakeholders can come together and advance integrated network planning, an approach that will hopefully be followed by many.
Interested in hearing from our experts first hand? Rewatch the webinar below.
The Optibus and ioki partnership
Optibus is an end-to-end, cloud-native software platform, used in over 4000 cities worldwide, for public transport planning, scheduling, rostering, operations, and passenger information, powered by artificial intelligence and optimisation algorithms. They have partnered with ioki since 2021, a leading provider of DRT solutions and a subsidiary of Deutsche Bahn to better integrate DRT solutions with fixed line services to ensure a better passenger experience and optimise efficiency for operators.