Just in line with the announcement of the 49 EUR (climate) ticket in Germany, Optibus hosted on October 18, 2022 an official opening of their new Berlin office space, together with industry experts and decision makers of the Berlin mobility ecosystem. Among city and political representatives and public transport associations, the Optibus team also had the pleasure to welcome Public Transport Operators as well as consultancies.
At the heart of the event were keynotes from Amos Haggiag, CEO of Optibus, Eva Kreienkamp, CEO of Berliner Verkehrsbetriebe (BVG), Alexander Möller, Senior Advisor at Roland Berger and Dr. Meike Niedbal, State Secretary for Mobility, about the role and importance of public transportation for Germany and its sustainability goals. The official part was then followed by various discussions of challenges and cornerstones of the future of public transportation in Berlin and beyond.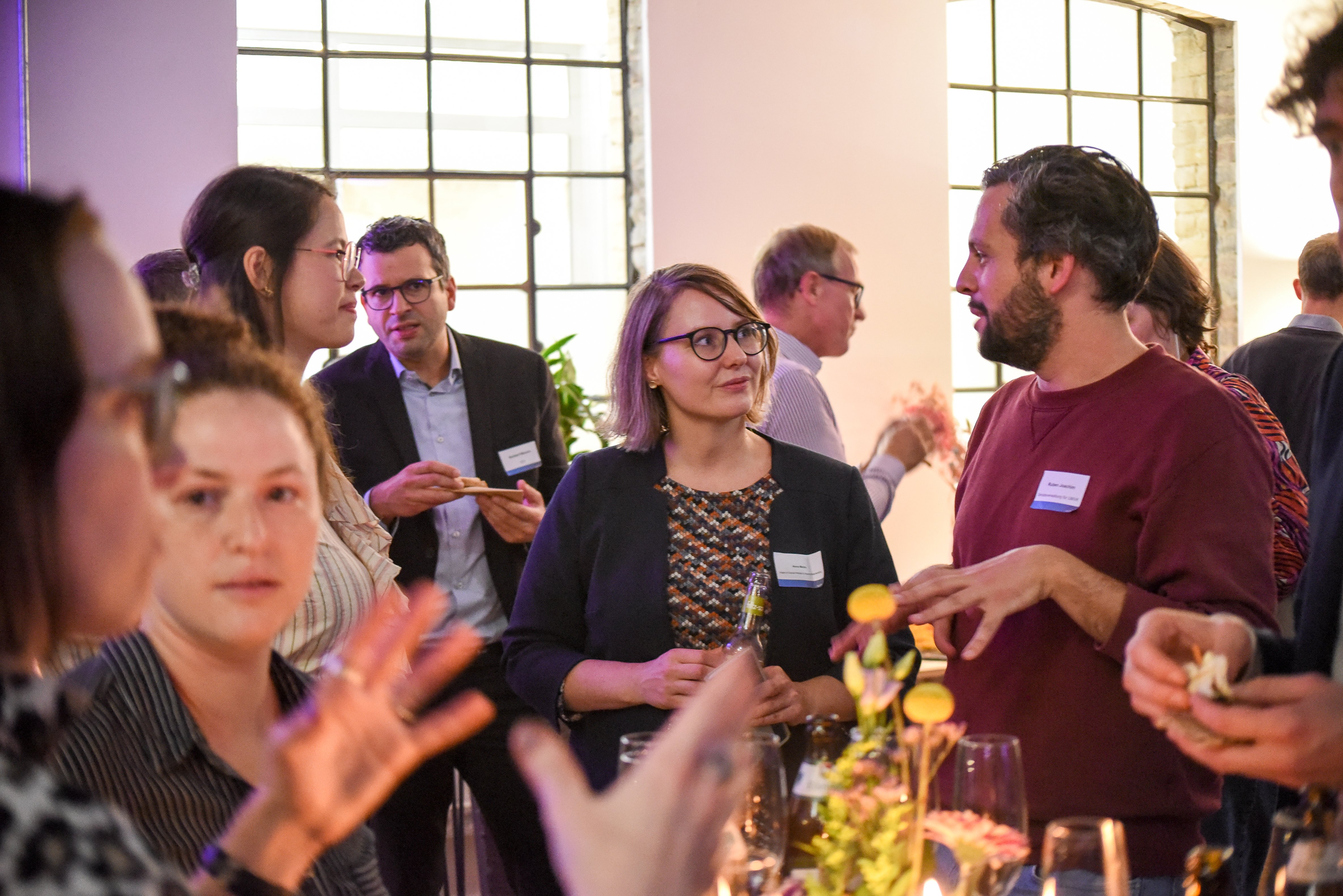 Industry experts discussing trends and tendencies of public transportation at the Berlin office opening
Optibus envisions a more sustainable world, where public transportation is the mobility mode of choice. The new Berlin office supports this public "transport revolution" - as it was called by the media outlet The Independent (UK) - by addressing regional challenges with localized expertise.
"I'm excited that Optibus is continuing its expansion in Europe. With our Berlin office, we move one step closer towards our vision of a less car-centric world that prioritizes the environment and efficient, equitable mobility for all," said Amos Haggiag, Optibus CEO and co-founder.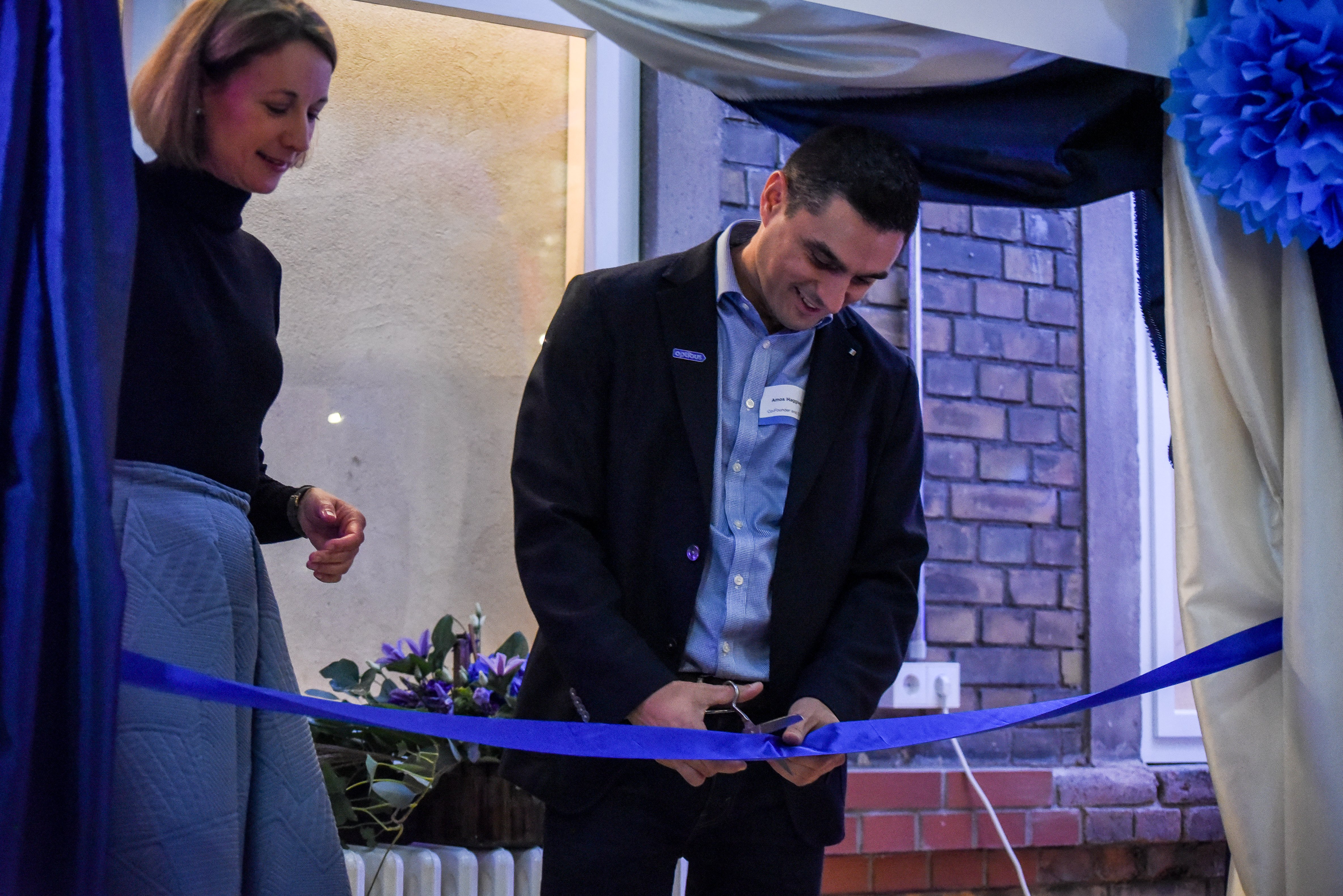 Amos Haggiag, CEO of Optibus, cutting the ribbon
During the event, Amos Haggiag pointed out that Germany has a long tradition of public transportation and that it is one of the most important and relevant markets for this industry. This thought was underlined by the other participants and speakers who believe that Berlin - being close to politics, a strong startup scene and important industry players - is going to become a real mobility hub, exporting best practices to Europe and the world.
At the center of all discussions and reflections is always the interest and intention to strengthen public transportation in order to reduce carbon emissions and, thus, support the sustainability goals defined by the European Union and its member states.
"Our mission should be to get to a decarbonised environment by reducing private transportation and reinforcing efficient public transportation systems," said Alexander Möller, Senior Advisor at Roland Berger, "We need to be more efficient in order to achieve this. That means that we need to take a closer look at what needs to be optimized in what way."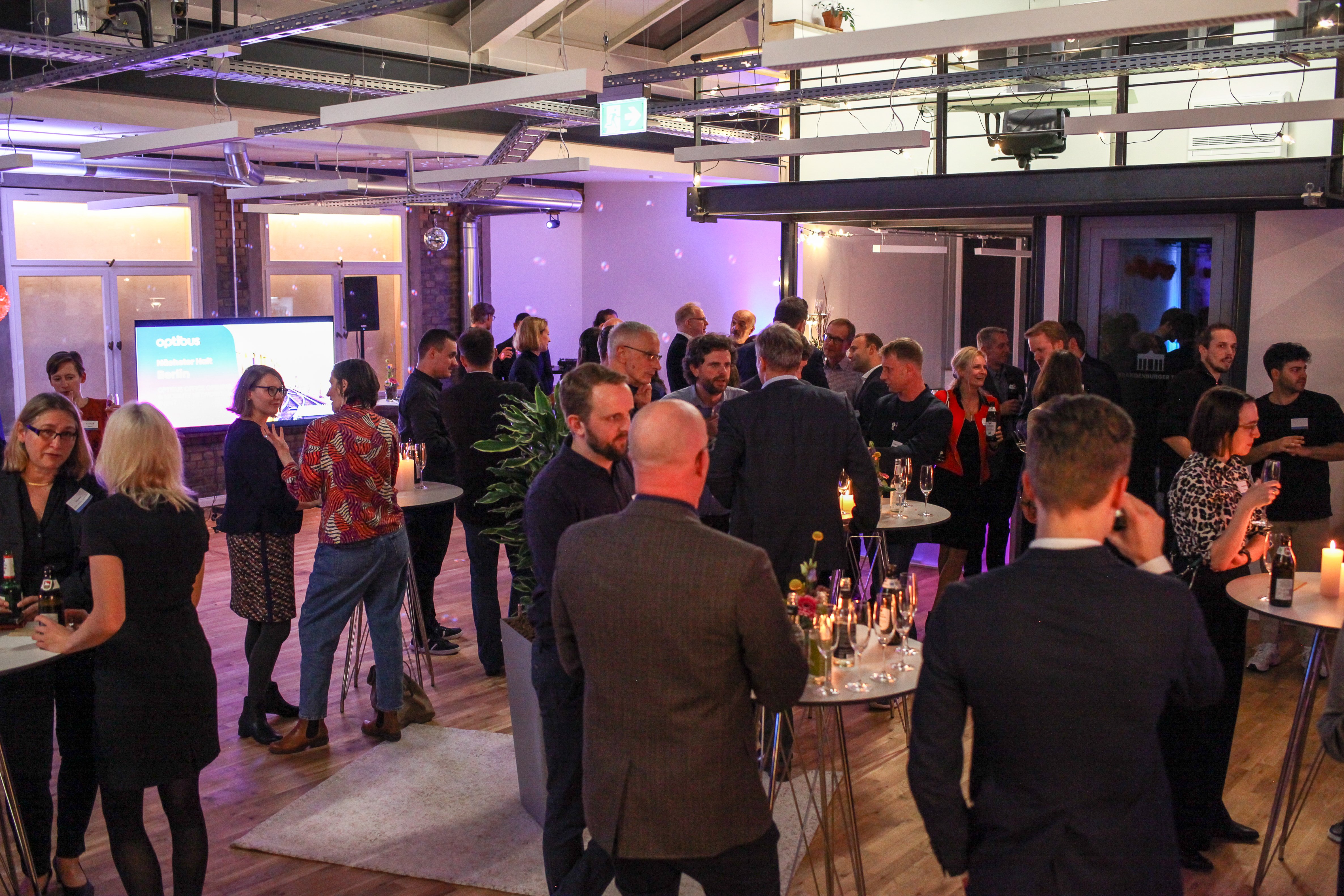 Intensive conversations during the networking event
This is where the Optibus platform solution comes in. From day one on, Optibus is concentrating on the optimization of public transportation - buses for now - knowing that this is the key to an efficient, equal transportation system. With just one click Optibus customers can optimize their Planning and Scheduling and can create multiple scenarios in seconds. Thus, this not only leads to time but also cost efficiency, which is so much needed these days in the public transportation sector worldwide. "We're very happy that Optibus is opening its office here in Berlin," said Dr. Meike Niedbal, State Secretary for Mobility, "Public transportation is an important topic of our time, in which the state of Berlin will invest heavily in the upcoming years. We are proud that Optibus is joining our mobility hub. You have the right product at the right time and the right place."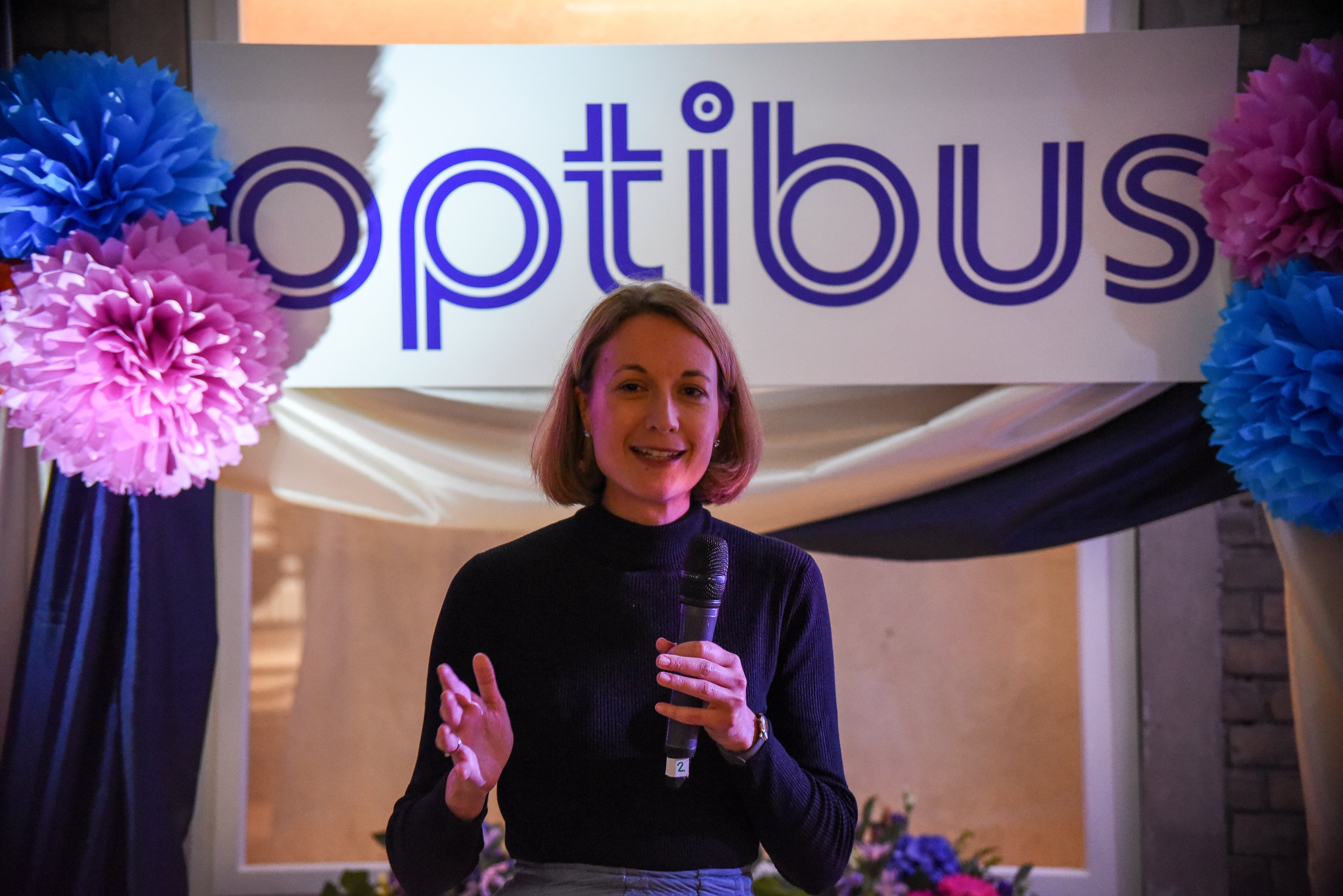 Dr. Meike Niedbal, State Secretary of Mobility giving her keynote speech
The efficiency aspect is spreading into many different parts of public transportation systems. It encompasses amongst others
driver retention and acquisition: Germany having to deal with the challenge that by 2027 about 55% of bus and tram drivers will be retiring

the financing of the system: will the system be financed strongly by fare prices or will financing via taxes become more relevant and the elected choice

the simple expansion of public transport services: being it on the last mile, on-demand, with electric vehicles etc.
One very important and hot topic in Germany definitely is the climate ticket (working title), where passengers all over the country pay 49 EUR monthly and can access public transportation - may it be rail or bus - everywhere. The ticket is the extension of its predecessor, the 9 EUR ticket, which was tested during the summer months in 2022. It was perceived as a huge success among the citizens, increased ridership significantly and contributed towards a reduction of carbon emissions. Thus, the German government decided to launch the so-called climate ticket. The decision was announced recently in October 2022. What still needs to be clarified and discussed, though, is how that new initiative will finally be financed.
Even though the 9 EUR ticket was in general perceived as a huge success, it also revealed the weaknesses of the German public transportation system. These include old trains in need of repair, missing punctuality and a generally overloaded system, lack of drivers and qualified personnel, planning and scheduling troubles. All these issues initiated long awaited discussions.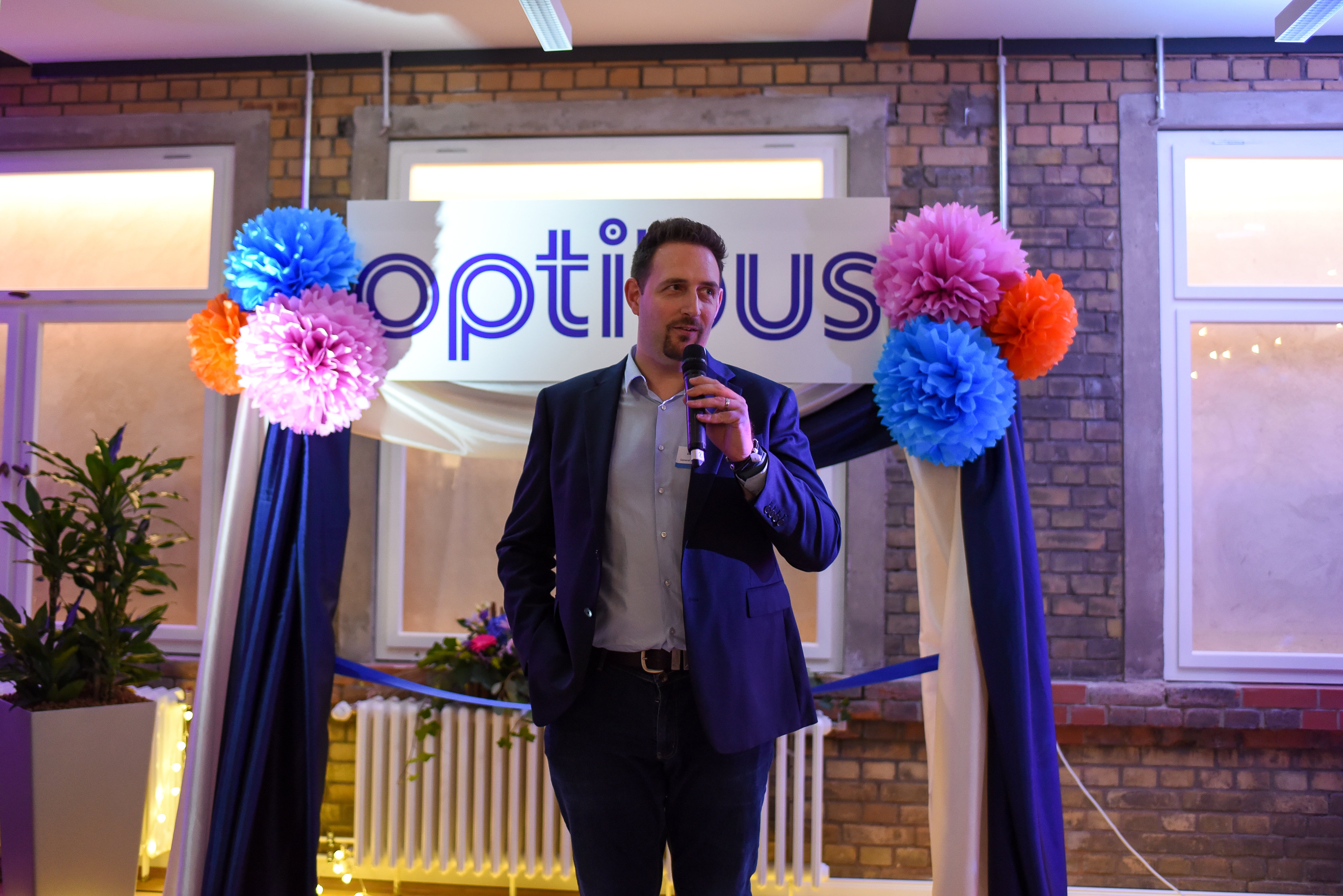 Dave Joshua, General Manager EMEA of Optibus, officially opening the Berlin office
Optibus is happy to contribute in leading and organizing these kinds of discussions together with like-minded people and with that to support the mobility hub in Berlin and beyond. With its cloud-native end-to-end platform solution Optibus is definitely on the cutting edge with its product, supporting agencies, cities and operators likewise in their planning, scheduling, rostering and operations.
"Optibus' DACH headquarters will serve as Germany's primary hub of transportation innovation and localized expertise," said Dave Joshua, General Manager EMEA of Optibus, "We promise to bring to Germany new levels of operational and service efficiency and to enable the transition to zero-emissions bus fleets."