Optibus, an AI-powered software platform used to plan and operate public transportation in 2,000 cities worldwide, is proud to announce the launch of the Optibus Academy for Universities, a global initiative aimed at revolutionizing public transportation education. The program is designed to bring academia closer to real-world transportation practices, inspire the next generation of public transportation professionals, and equip the sector's future leaders with modern skills and tools to provide essential public transportation services today and in the future.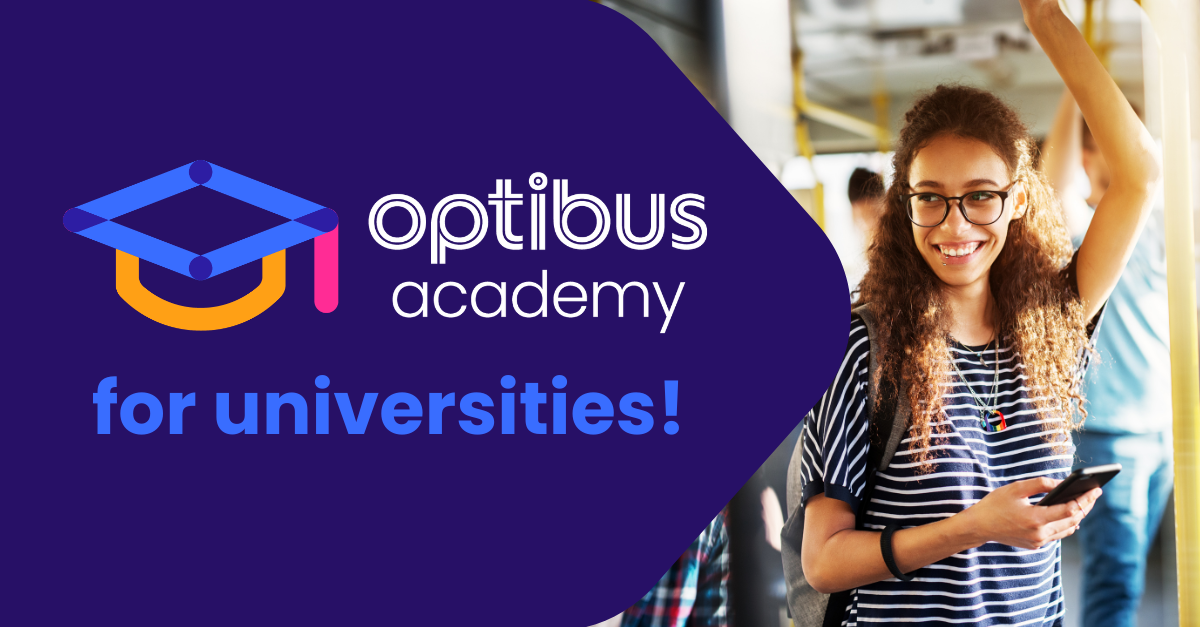 The transportation sector is evolving rapidly. Shifts in passenger demand, the transition to electric vehicles, and technological breakthroughs in artificial intelligence mean that operational practices and processes are changing quickly. As a result, educational curricula can easily become disconnected from real-world operations and demands. The Optibus Academy responds to these transformative trends by providing workshops and training programs that enable today's students to thrive in this dynamic environment and become the industry's future leaders.
The Optibus Academy for Universities offers three program types:
Introductory one-day workshops: Provides an overview of bus planning practices and principles, a hands-on workshop with Optibus' Planning and Scheduling products, and 1-month complementary student license to Optibus Planning & Scheduling
Embedded workshops: Designed for in-depth academic research, the embedded format allows students to explore Optibus' software functionalities and utilize the platform for dissertations and research articles
Career fairs: Organized to facilitate direct interaction between students and Optibus professionals, resulting in professional networking and career opportunities within the industry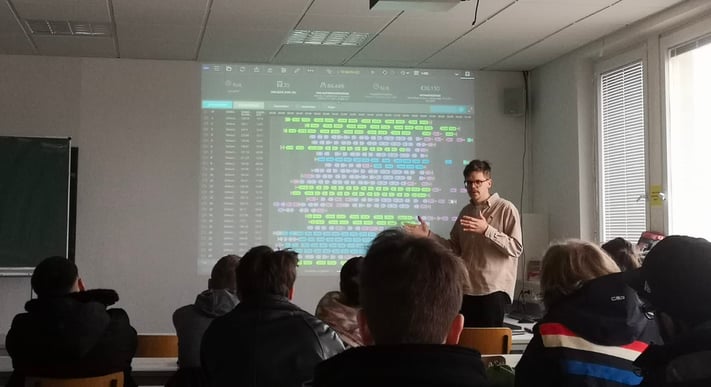 Tommy Gruber, Solutions Engineer Team Lead at Optibus, participates in a transportation seminar for Bachelor and Master students at the Technische Universität Berlin. The seminar was strongly practice-oriented, with Optibus presenting alongside several industry players including Deutsche Bahn and TÜV Rheinland Consulting to share their perspectives and experiences with the students.
The Optibus Academy is a valuable resource for students and educators alike. It serves as a gateway for academic institutions to collaborate with Optibus to gain a deeper understanding of how digitization is transforming transportation operations and what can be included in educational curricula to ensure students' success after graduation. Students benefit through exposure to career opportunities in the field, networking with transportation technology experts, insight into real-world practices and challenges, and hands-on training.
"The Optibus Academy is a testament to Optibus' commitment to inspire the next generation of public transportation professionals and get young people passionate about the industry. By bringing academia, the technology sector, and real-world transportation operations closer together, Optibus hopes to empower students with the knowledge and skills needed to excel in their careers and solve many of the challenges the industry faces today," said Amos Haggiag, Optibus CEO and co-founder.
As part of this program, Optibus has established partnerships with several renowned universities, including the University of Manchester, Ecole des Ponts University Paris, Technical University Berlin, Technical University Munich (TUM), Technion - Israel Institute of Technology, Aveiro University (Portugal), and more. There, Optibus' software is already being used to facilitate academic research on different topics, such as the impact of different mobility modes on various routes and the renewal of nationwide transportation networks.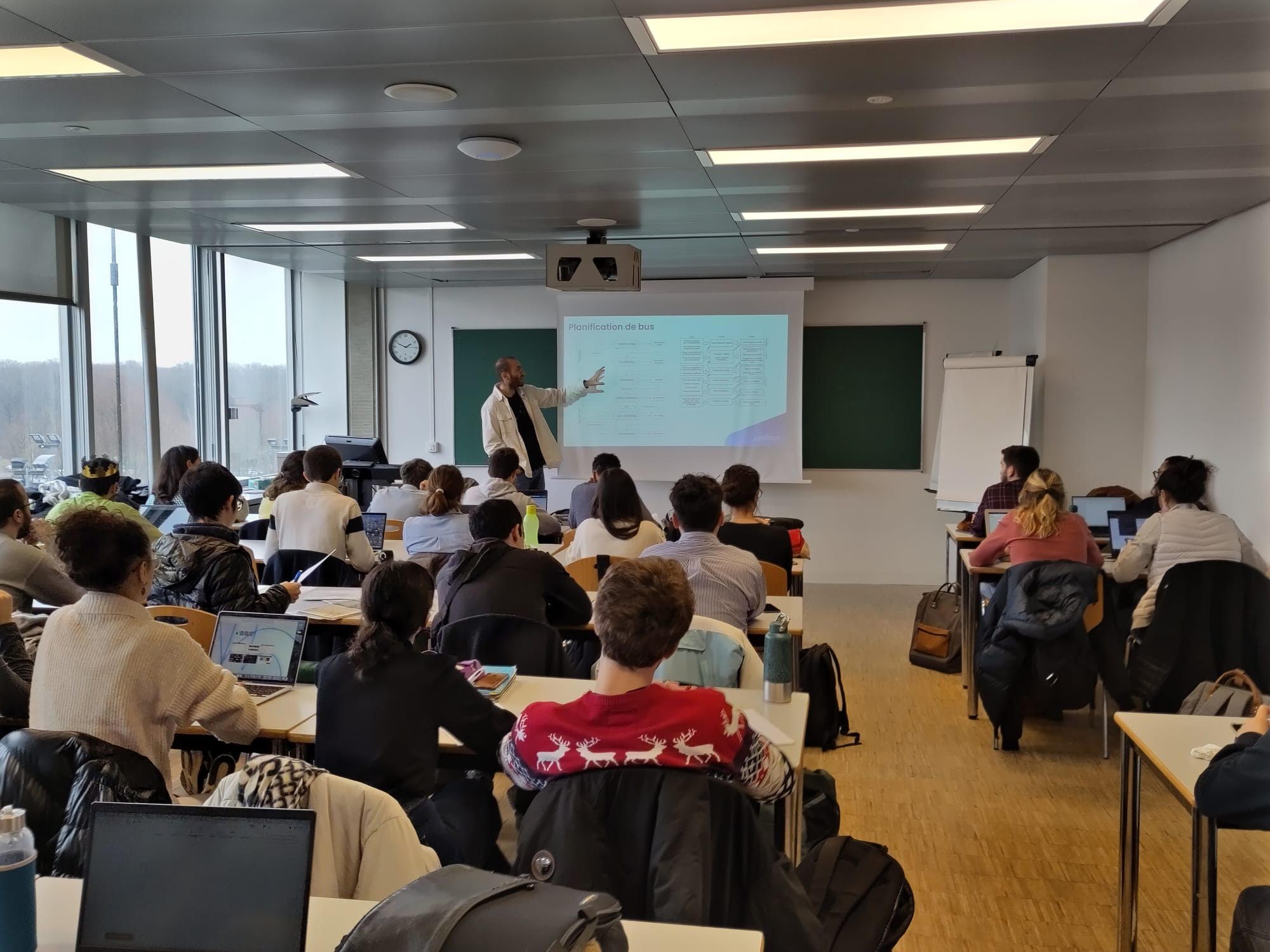 Zacharie Chebance, a Senior Presales Engineer who helps to lead the Optibus Academy initiative, runs a workshop at École des Ponts ParisTech on software and transportation planning for about 40 students of the specialized "Transportation and sustainable studies" masters program.
"There tends to be a gap between academia and reality, and I've always wanted to connect the academic world with the professional world. The fast-evolving transportation industry necessitates keeping students abreast of the operational aspects that go beyond theory," said Zacharie Chebance, a Senior Presales Engineer at Optibus who helps to lead the Optibus Academy initiative.
For more information about the program and to explore partnership opportunities, please visit the Optibus Academy page of our website or contact our team at info@optibus.com.