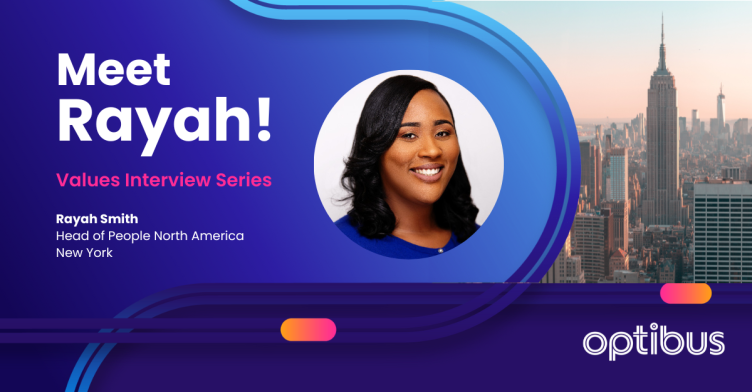 What set of values makes you connect with your company and appreciate your job?
At Optibus we have defined our values, to ensure we preserve our core principles alongside our global expansion. It took months of exploration amongst various groups of Optibus employees to get it right and be able to answer those questions: What makes Optibus special? What connects us? What drives us? The findings are four words: DETERMINED, CARING, INNOVATIVE and IMPACTFUL. But because four words alone cannot tell the full story behind them, we thought it would be best to let our employees tell us more about it.
Today, Rayah Smith, Head of People North America, shares some of her insights with us.
----------------------

What is your job at Optibus and what is a typical work day like?
My role is Head of People for North America. I can't really say there is a typical work day in the life of a HR professional. It can range from a variety of activities. On any given day I can be meeting with managers and employees to discuss HR-related issues and provide guidance and support, collaborating with other members of the HR team to develop and implement HR policies and programs, handling employee relations issues, such as conflicts or complaints, and providing guidance and support to managers and employees on how to handle these issues, conducting employee performance evaluations and providing feedback and guidance on performance improvement, assisting with employee engagement and retention efforts, reviewing and analyzing HR data to identify trends and areas for improvement, developing and delivering training programs and workshops for employees and managers, and communicating with other departments and teams within the organization to ensure alignment of HR strategies with overall business goals.


What do you enjoy most about working at Optibus?
What I enjoy most about working at Optibus is for sure the culture and the people I get to work with on a daily basis. The people here are passionate about the transportation industry, are dedicated to doing outstanding work, delivering results, and are subject matter experts that are always willing to help each other out.


Which Optibus value resonates with you most and why? (Determined, Innovative, Caring or Impactful)
Impactful, impactful because in my role as Head of People, I am able to have both an impact on the people by creating an engaging and equitable workplace and also an impact on the business by supporting the growth and evolution of the organization. Being able to cultivate change and encourage a positive work environment by championing new ideas and initiatives is what inspires me daily.


What are you passionate about at work?
I am passionate about my role as a leader and being of service to others, empowering others to take action to achieve business growth and the ability to lead with a balanced approach of humility and confidence.


What challenges have you faced in your career, and did the values we share help you overcome them?
For me, it would be imposter syndrome. Imposter syndrome is loosely defined as doubting your abilities and feeling like a fraud. I think we've all felt like an imposter at some point in our careers. Determination is what allowed me to overcome this challenge by setting and achieving small goals, focusing on progress, not perfection, learning from my mistakes and seeking help and support when needed. Optibus has supported me through this by giving me the autonomy to achieve the goals I set forth. I've also learned it's important to reflect on accomplishments and to celebrate the small wins, and equally important to practice self compassion and believe in oneself. That's determination!


What's one thing you wish someone had told you when you were at the early stages of your career?
One thing I wish someone would've told me early on in my career is to ask as many questions as I want, move at my own pace and not compare myself and my work to others. I think at times we all get caught up in saying the right thing or in comparing oneself to others, but it is important to remember that everyone's journey is different and that success and progress come in many forms. I've learned it's more productive to focus on one's own goals and progress, and to strive to be the best version of oneself. A mentor of mine told me to remember that failure and rejection are a part of the process and that these experiences can be valuable learning opportunities that can lead to growth and success in the long run.


----------------------
At Optibus, we are determined to create innovative products that have a positive impact on the world because we care. If these values are yours too: Come join our team! Learn more at https://www.optibus.com/jobs