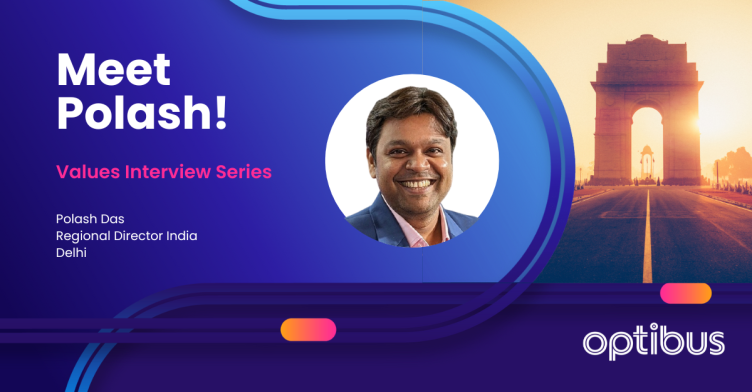 What set of values makes you connect with your company and appreciate your job?
At Optibus we have defined our values, to ensure we preserve our core principles alongside our global expansion. It took months of exploration amongst various groups of Optibus employees to get it right and be able to answer those questions: What makes Optibus special? What connects us? What drives us? The findings are four words: DETERMINED, CARING, INNOVATIVE and IMPACTFUL. But because four words alone cannot tell the full story behind them, we thought it would be best to let our employees tell us more about it.
Today, Polash Das, Regional Director India, shares some of his insights with us.
----------------------
What is your job at Optibus and what is a typical work day like?
As Regional Director India, I am responsible for driving sales and increasing Optibus' footprint in my region. Most importantly, I am helping public transit agencies adopt a solution that helps them create a more efficient and people-centered service.
My typical work day consists of meeting people from the transport industry in person or online to understand their challenges, pain points, requirements and proposing solutions that address their needs. I also act as a central point of contact for our clients throughout the decision making process to create a seamless experience.


Why did you want to work at Optibus in the first place?
Optibus' offerings to the Indian market are a necessity. Our solutions have the potential to create a huge impact on improving the efficiency of public transit. Given that India is a highly deficit market when it comes to availability of public transport, any improvement in efficiency in terms of availability of buses or convenience to riders will bring a lot of value. The positive impact that Optibus can have on this region led to my decision to work for Optibus.


What do you enjoy most about working at Optibus?
I enjoy the diverse and vibrant culture of Optibus. Everybody is so approachable, takes the time to understand my needs and those of my region and is ready to help in the best possible manner. This motivates me to contribute more towards building this amazing organization called Optibus. In a very short period of time, I have made so many friends here and enjoy working with them.


Which Optibus value resonates with you most and why? (Determined, Innovative, Caring or Impactful)
I would say, Determination to bring positive change to the Indian Public Transit Ecosystem. To change the mindset and adopt a more data driven approach to better plan and schedule. India is a huge country, with a diverse and incredibly complex system. It requires a lot of effort and determination to build a solution that will bring value not only to the agencies, but to the common people as well.


What are you passionate about at work?
I am passionate about solving problems. India has a very complex public transportation system. Every agency is unique with their own set of challenges. Understanding these dynamics and being able to propose solutions that will address them is very challenging but also exciting.


Can you share an anecdote that describes how the values are reflected at Optibus?
I knew Optibus had employees from 23 different countries. When I was attending Global Week, I made sure that I interacted with at least one person from all these 23 countries. I was so amazed to see how diverse we are yet so determined in our efforts to work towards a common goal; to make public transportation better, together.


What's one thing you wish someone had told you when you were at the early stages of your career?
Don't hesitate to speak your heart out. It took a lot of effort to develop this, I wish I could have done that very early in life. It could have changed a lot of things.


Any hobbies in life?
Teaching, I'm very passionate about it. Have been doing it for the past 20 years. Any given Sunday, you can find me around kids helping them understand a science concept or solving a mathematical problem.
----------------------
At Optibus, we are determined to create innovative products that have a positive impact on the world because we care. If these values are yours too: Come join our team! Learn more at https://www.optibus.com/jobs