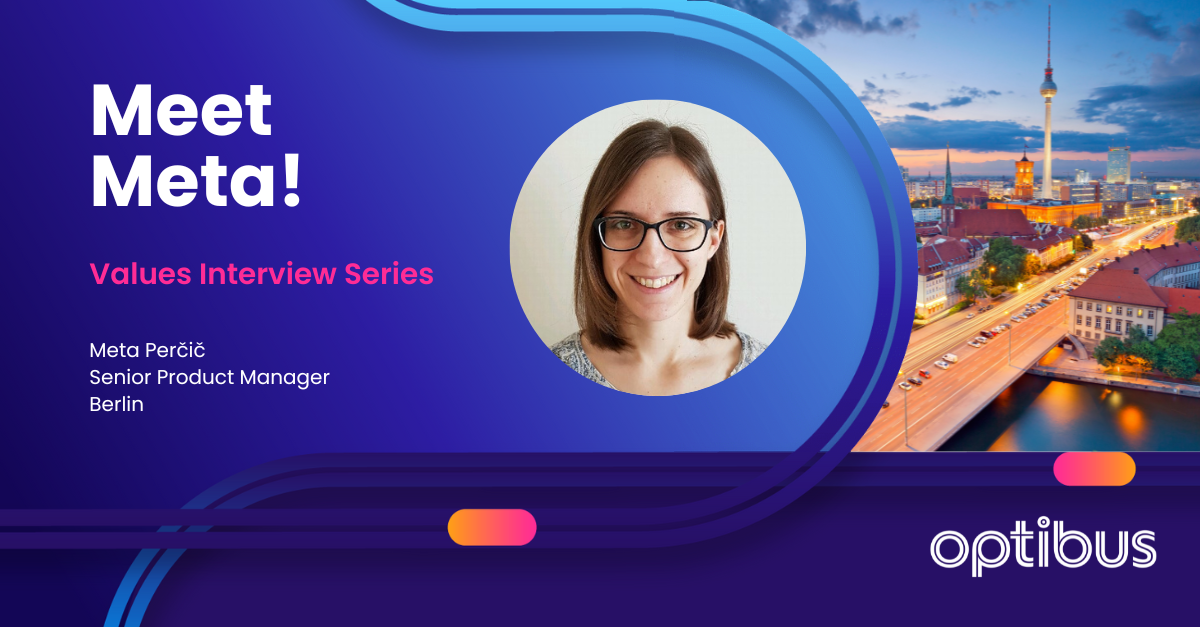 What set of values makes you connect with your company and appreciate your job?
At Optibus we have defined our values, to ensure we preserve our core principles alongside our global expansion. It took months of exploration amongst various groups of Optibus employees to get it right and be able to answer those questions: What makes Optibus special? What connects us? What drives us? The findings are four words: DETERMINED, CARING, INNOVATIVE and IMPACTFUL. But because four words alone cannot tell the full story behind them, we thought it would be best to let our employees tell us more about it.
Today, Meta Perčič, Senior Product Manager, shares some of her insights with us.
----------------------
What is your job at Optibus and what is a typical work day like?
I am a Product Manager, responsible for our upcoming product, the Optibus Driver app. My typical day is usually packed with defining product requirements and aligning with my team and stakeholders in order to make sure we are developing valuable and impactful features at a good time. This process starts with understanding the problem - directly from our users' perspective. I often have calls with our users asking them lots of questions and showing them our wireframes in order to get their feedback and understand what features we need to develop to solve their problems. I then sync with our product designer on how we can design a good user experience with new features. Once we have iterated to the final design, I discuss technical details with engineers, so they can later start developing them. An important part of my day are also sync meetings with various stakeholders (other development teams, Customer Success, Sales, Marketing, Education, Support, Management) to make sure that we are all aligned on what and when my team will deliver.
What do you enjoy most about working at Optibus?
I really enjoy that I am able to talk directly to our users to deeply understand the issues that they are struggling with and hear their feedback. This way we can design new products and features that will be highly valuable for them. Even though the ability to talk to your users is very important for any Product Manager or product, it is sadly not possible in every environment.
I also love working with my team, they are just an amazing bunch of people, who are very respectful, caring, accountable, professional and open to hear everyone's point of view.
Which Optibus value resonates with you most and why? (Determined, Innovative, Caring or Impactful)
I'll pick two: impactful and caring.
Being impactful, helping to change for the better and at the same time care about people and environment is what has been driving me personally in all the projects I've done in my life. There are things that you do just out of pure pleasure, but what really matters when you look back, is if you've done something good. Helping solve problems that people or the environment are facing has been one constant in my personal and professional life and I am happy to be able to continue the story together with Optibus.
What are you passionate about outside of work?
I enjoy doing sports. Swimming in the sea or lakes is my favorite sport that also helps me to forget about my to-do list and just relax. If I can also get a view over some mountains and spend a relaxed afternoon with my family, that's my perfect day.
What challenges have you faced in your career, and did the values we share help you overcome them?
I didn't start my career as a Product Manager. After my studies I did different types of jobs, before working as a Project Manager for some time. Even though I enjoyed Project Management in the beginning, I came to a point where I felt it wasn't completely what I wanted anymore. At that time I discovered Product Management, which was a new term for me back then, but I felt it would be a great fit for me. Sadly there were almost no Product Management jobs in my home country at that time, but I was determined to become a Product Manager and after a while I managed to get a Product Management role in a very small startup. It was a good start, but I wanted to learn from other more experienced PMs and eventually moved to Berlin, where there were more opportunities. Here I landed a Product Management Trainee role and within a few years, with my determination to learn and improve, I grew into a Senior Product Manager. It was not such a straightforward path, but I was determined to achieve my goals.
----------------------
At Optibus, we are determined to create innovative products that have a positive impact on the world because we care. If these values are yours too: Come join our team! Learn more at https://www.optibus.com/jobs