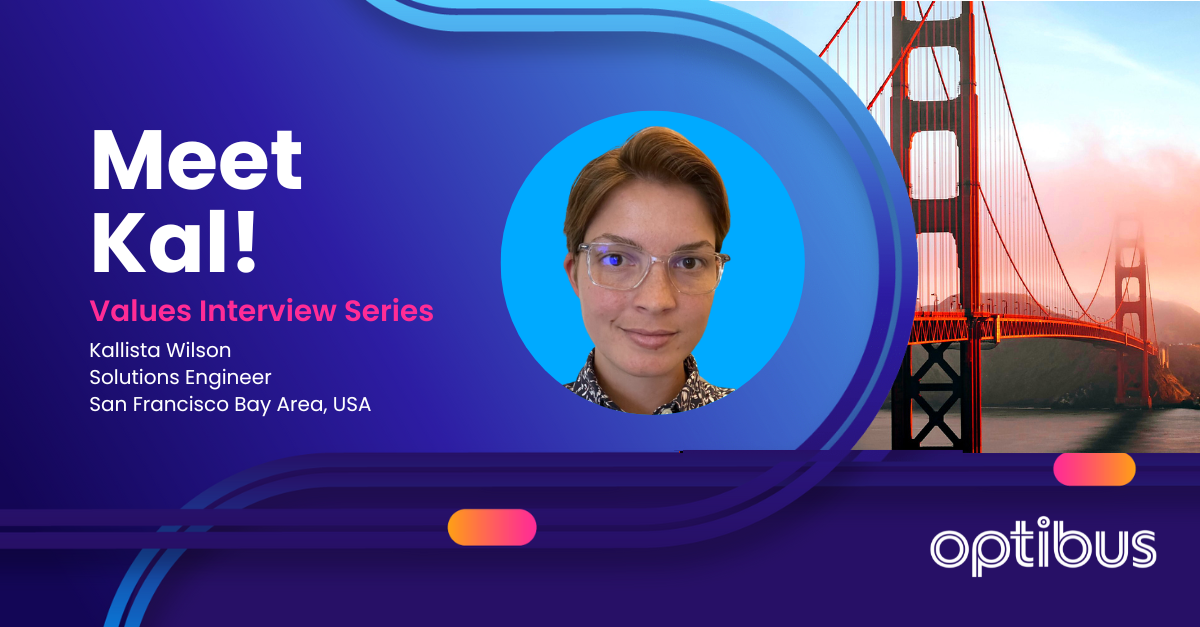 What set of values makes you connect with your company and appreciate your job?
At Optibus we have defined our values, to ensure we preserve our core principles alongside our global expansion. It took months of exploration amongst various groups of Optibus employees to get it right and be able to answer those questions: What makes Optibus special? What connects us? What drives us? The findings are four words: DETERMINED, CARING, INNOVATIVE and IMPACTFUL. But because four words alone cannot tell the full story behind them, we thought it would be best to let our employees tell us more about it.
Today, Kal Wilson, Solution Engineer at Optibus, shares some insights with us.
—----------------------
What is your job at Optibus and what is a typical work day like?
I am a Solutions Engineer at Optibus. The majority of my time is spent running client onboardings and managing ongoing client relationships. That includes holding discovery sessions to understand client operations, training new Optibus users, configuring client preferences, and providing support to ongoing Optibus users. I also communicate with our product team about our electric vehicles module, put on webinars for our North American User Community, and head up the environment portion of our ESG reporting effort.
What do you enjoy most about working at Optibus?
Working directly with so many different planners and schedulers at public transit agencies and operators has been such a positive experience and has provided an opportunity to learn about the details and intricacies of the operations at each of those sites.

Which Optibus value resonates with you most and why? (Determined, Innovative, Caring or Impactful)
Impactful. From my perspective, our ultimate goal is to help public transit agencies and operators get their service on the road, where it has a dramatic impact on people's daily lives. Along the way, I like to think we are also positively impacting the day to day work of the planners and schedulers at transit agencies.
What are you passionate about at work?
I'm really excited about the Optibus Electric Vehicles module. It's so important that we move toward Zero Emission Buses to reduce carbon emissions and air pollutants, but being able to schedule electric buses to keep them charged and on the road can be challenging. I think the EV module is a powerful tool that can help with those challenges and it's been exciting to see the tool become more and more robust over the past few years.
What are you passionate about outside of work?
Pedestrian and cyclist safety is also really important to me. I don't drive, so I spend a lot of time walking and biking and noticing the ways in which the spaces around me could be better designed to prioritize safety for vulnerable road users.
Any hobbies in life?
I enjoy hiking, strategy board games, and playing Dungeons & Dragons.
At Optibus, we are determined to create innovative products that have a positive impact on the world because we care. If these values are yours too: Come join our team! Learn more at https://www.optibus.com/jobs