At Optibus, we are proud to bring together some of the brightest and most passionate minds in the transportation technology industry. To showcase the incredible talent within our team and offer valuable insights to aspiring R&D Engineers, we are thrilled to present the Optibus R&D Interview Series.
In this exclusive series, we provide a platform for our R&D engineers to share their personal experiences, motivations, and the fascinating aspects of their daily work at Optibus. We aim to showcase the exciting projects and initiatives our R&D engineers are involved in, highlighting the challenges they face and the innovative solutions they create. We also examine the profound impact of AI technology on their work, exploring how it enhances productivity and shapes the future of transportation.
Today, Greyce Riquinho, Software Engineer, shares some of her insights with us.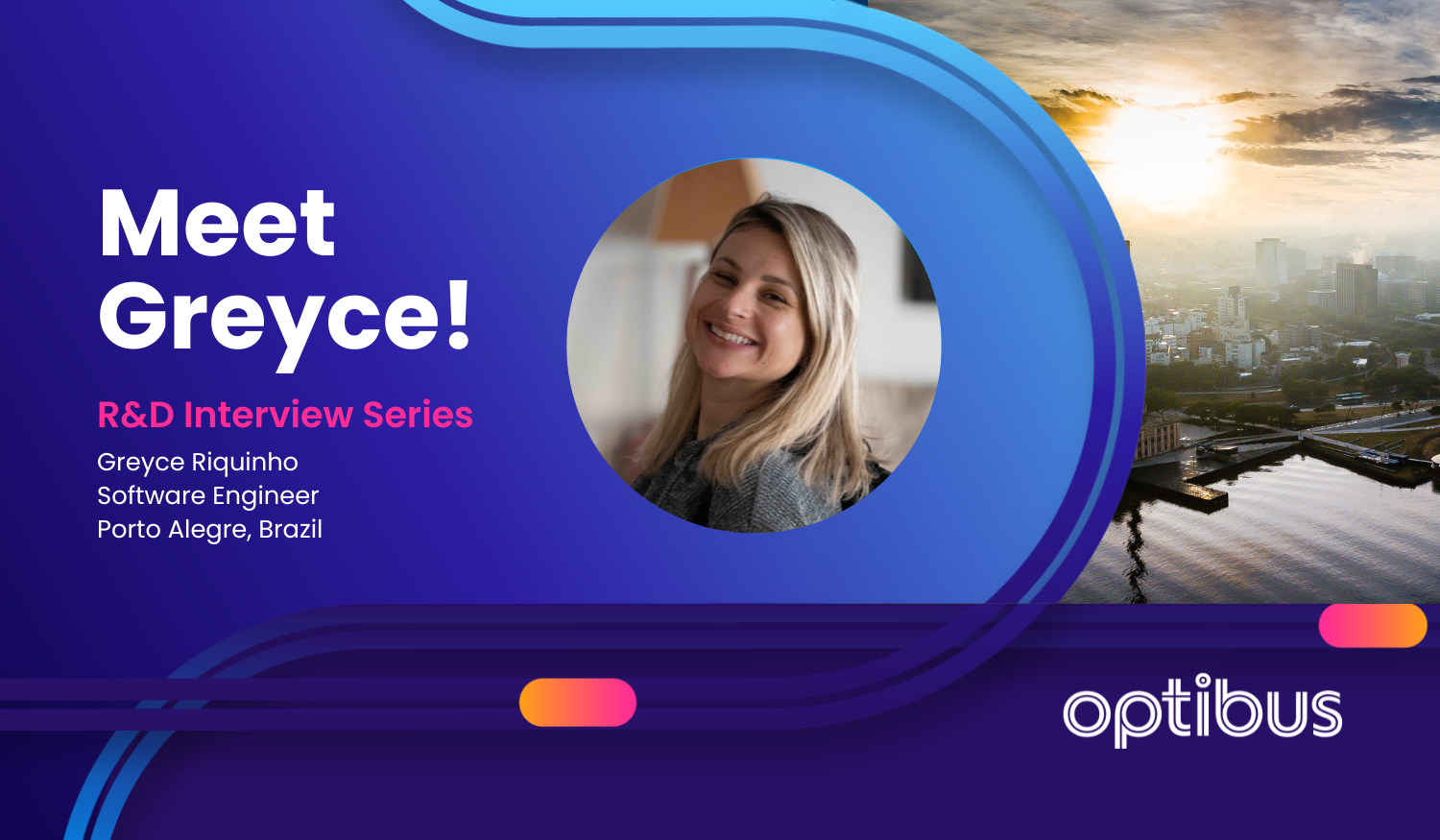 What is your job at Optibus and what is a typical work day like? What are some interesting aspects of your daily work?
I work as a developer on the platform team, contributing remotely from Brazil. Despite the significant time zone difference between me and the rest of the team, we've established a structured routine that keeps me engaged and connected, even though I begin my workday a few hours after my colleagues. The power of technology enables us to maintain a strong collaboration regardless of geographical distances.
My typical day starts with a session where the team shares the progress reports on the ongoing and upcoming tasks that we've previously outlined to tackle during that specific timeframe, the sprint (development cycle). The collaborative process of code reviews ensures that our contributions are clear and meet high standards of quality. We seek to maintain a shared understanding of the features in development and the incremental steps required to ensure timely delivery.
I am part of the team that binds together all the modules Optibus offers by maintaining the platform that serves our valuable customers. We are always engaged in dynamic and meaningful tasks to enhance the user experience and optimize performance while navigating through our platform.
As a developer, one of the most rewarding aspects of my role is the immediate visibility of my contributions. Whether I'm introducing new features or optimizing the codebase, I can see the impact on what we deliver. This sense of achievement serves as a constant motivation and reinforces my dedication to the work I do at Optibus.

What do you enjoy most about working at Optibus?
That is the exceptional team collaboration. Everyone is enthusiastic about extending a helping hand and sharing their knowledge, creating a wonderful atmosphere of support. I find immense satisfaction in the continuous learning and growth that this environment offers.
In 2022, the company organized a memorable gathering by flying all of us to Greece. This was an incredible opportunity to meet and connect with colleagues from various parts of the world. I had the privilege of meeting some members of my team in person for the first time! Another unforgettable experience was a recent team event in Berlin, where we not only intensified our connections but also achieved significant work within the same time zone.
What specific features and functionalities have you worked on with your team that you find particularly exciting or challenging?
My team and I have been fully engaged in a series of transformations that have injected a dynamic spirit into our platform. Our team's journey began with a complete revamp of the platform to bring new life into the user experience, making interactions more engaging and intuitive for our customers.
Our focus on making content management effortless and boosting productivity led us to introduce cool features like global search. This addition empowers users with the ability to instantly locate any project across the modules. We've also given users handy tools like the copy project feature, bulk delete and coming soon, a nice feature to enable users to locate their most recently accessed projects, granting them agile control over their file management process
Our work extended to the refinement of users and permissions, a crucial aspect of our platform. And, the improvements we've implemented in our calendar functionality. They provide users with an enriched and more insightful experience.
Developing these features had their own particular challenges, but it's been a great way for the team to share collaboration. I've gained new skills and grown within the team.
In your opinion, what sets Optibus apart from other companies? How does it create a unique and fulfilling environment for R&D engineers ?
Optibus sets itself apart through its personalized approach to transforming public transportation using advanced technology and innovative solutions. Our purpose is present in everything we do.
Diversity and inclusion are core values at Optibus, creating an environment where engineers coming from different backgrounds collaborate, share ideas, and contribute.
Additionally, the "Take a breath day" initiative is another awesome thing about the company. Having a dedicated day off per quarter is a good way to recharge and maintain a healthy work-life balance.
The company definitely prioritizes the well-being of the employees through all the unique set of initiatives it offers, being an assertive choice for R&D engineers seeking a distinctive and fulfilling work environment.
How does Optibus support work-life balance for its R&D engineers? Are there any flexible work arrangements or initiatives that help maintain a healthy work-life integration?
As developers, our main focus is on delivering results, and as long as we meet our targets, we are able to find the necessary balance between work and personal commitments. This flexibility is also supported by our work-from-home policy, complemented by a budget to personalize our home office setup according to our preferences.
We also have a nice solution for when the desire to connect in-person with our colleagues comes: Optibus in LATAM offers us membership with many co-working spaces and all we have to do is schedule a spot with our local team and make it happen.
Optibus takes a refreshing approach to vacations. We're free to plan our time off in a way that suits our responsibilities and needs.
Transparency and communication are strong in our culture. I like the fact that we are always informed about project expectations, deadlines, and goals. This open dialogue allows us to plan our workload without unnecessary stress.
Our projects are planned with a focus on being realistic and achievable. Each team collaborates to estimate efforts, ensuring that the workload remains reasonable and aligned with everyone's capabilities.


Any hobbies in life?
Optibus has brought back an amazing experience for me – the excitement of riding through the city on a bike. I used to enjoy it a lot when I was younger, but somehow, I lost touch with that feeling over the years. Then, when I joined Optibus, I got a bike from the company! (Seriously, how cool is it that Optibus provides a budget for a bicycle or a scooter when you join? We've got that kind of vibe going on here!). Suddenly, I was exploring the cyclo vias (bike paths) on two wheels and it quickly became one of my favorite hobbies.
Being outdoors is a big part of my life. Whether it's going for a hike or spending a day at the beach. It totally re-energizes me.
Traveling is another major passion of mine. Exploring new cultures, trying local cuisines, and creating memories all over the world – that's my kind of thing.
----
We hope you enjoyed this interview. Stay tuned as we release each interview, unraveling the secrets behind the success and innovation that drives Optibus forward in the transportation technology landscape. If you want to be a part of it: Come join our team! Learn more at https://www.optibus.com/jobs