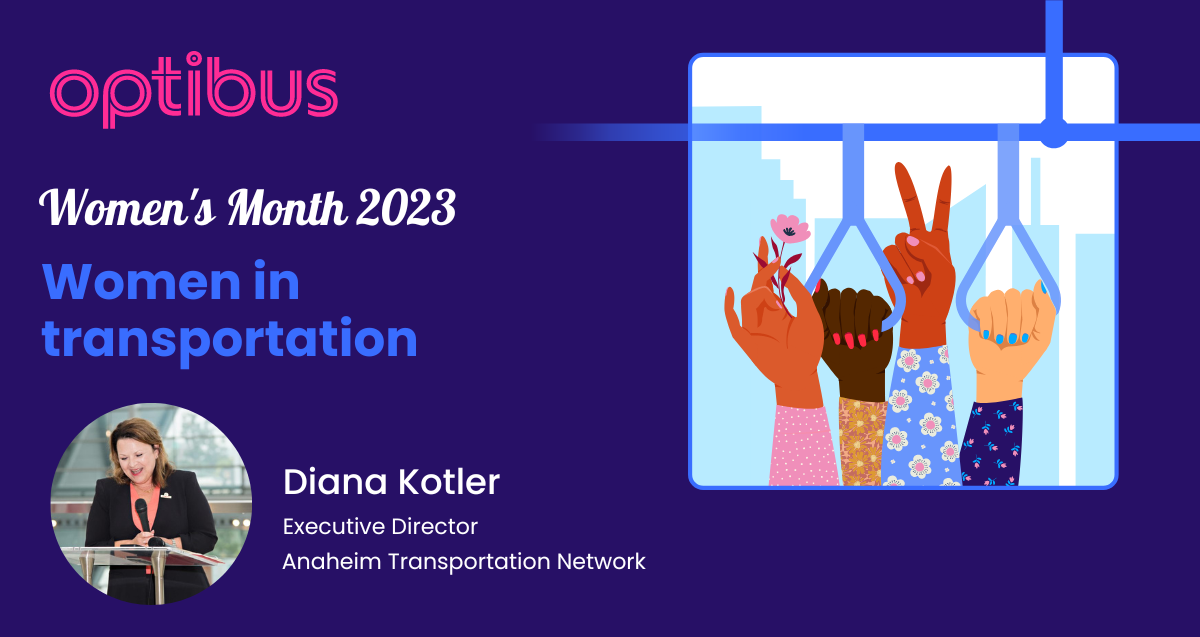 During Women's Month, Optibus celebrates some of the great women around the world who are making public transportation better and succeed in the incredibly complex task of keeping our cities moving efficiently and sustainably.
We are very pleased that Diana Kotler, Executive Director at Anaheim Transportation Network is our first interview partner.
Ms. Kotler's career includes over 25 years of experience in the transportation field. She began her career with the City of Anaheim overseeing transportation planning efforts. Since 2003, Ms. Kotler serves as the Executive Director for the Anaheim Transportation Network (ATN). ATN's mission is to provide public transit services for the residents, visitors and employees of Anaheim and surrounding communities. Ms. Kotler is a graduate of California State University, Long Beach (CSULB) with an undergraduate degree in Business Administration and Finance. Ms. Kotler earned her graduate degree also from California State University, Long Beach with concentration in Economics and Urban Planning.
Ms. Kotler, it's great to have you! Tell us something people don't know about your career?
I started as an intern at the City of Anaheim. My job was to count all the bus stops and bus shelters (with and without advertising) to determine an appropriate Business License fee - who could have predicted that I will end up in transit? 😁
Can you share some main challenges (if any) you encountered throughout your career as a female leader?
To this day, on the transit agency side, this field is heavily dominated by men, but women steadily and aggressively are breaking the glass ceiling.
I was fortunate to work for a very forward-looking municipality and community where gender did not play a role. Thoughtful deliberation and propensity to progress were, and still are, the leading factors in the decision-making process. But... I was always cognizant of others in the field of public transit and the challenges encountered in their individual journeys.
What is the ratio (high level) of women and men in your organization? Do you see any changes throughout the years?
We are evenly split - always have been:
On the executive team - Girls 3 Boys 2
On the management team - Girls 5 Boys 7
What can we do to enable more women to have a career in the industry?
Life-work balance is extremely important. As a society, we are making tremendous progress with the re-definition of the traditional responsibilities, but it will be a while before we overcome these stereotypes. Women continue to carry the load of family responsibilities.
Also, sometimes, as women, we can be our own worst enemies, we need to stop the thinking "well, I had to do XYZ; therefore, everyone else needs to grow thick skin and earn their marks." I think leadership is earned through respect, honest communications, clear challenging expectations and endless mentorship. We need to be servant leaders - that's our task in preparing the next generation of leaders. We all need to be SERVANTS.
What are the main themes in transportation you advocate the most?
Environmental stewardship, thinking beyond the status quo of "sustainability"
We need to start thinking of regenerative environmental stewardship.
What drives you?
Transit as a tool to economic development and growth - therefore job generation
What do you like to do outside of work?
Live music, I go to A LOT of concerts. And backpacking, I need to regroup and regenerate through nature
Thank you!
We hope you enjoyed Diana Kotler's insights as much as we did. Also, look forward to the next episodes of our interview series in which we interview women who are making public transportation better around the world. On Monday, we'll be heading to India!