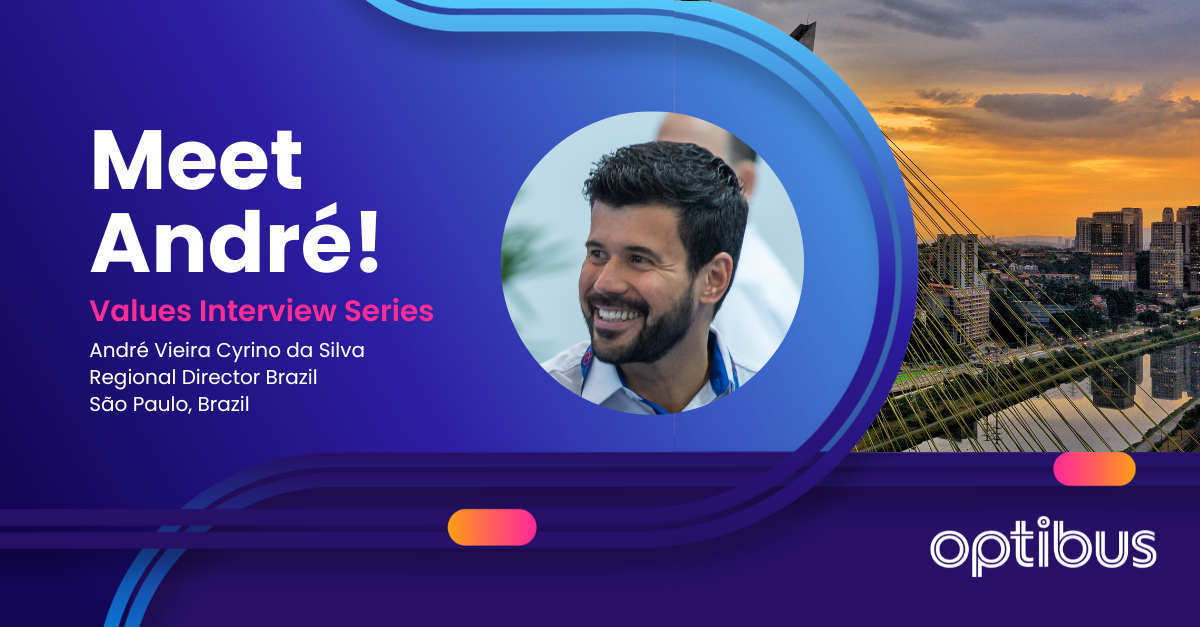 What set of values makes you connect with your company and appreciate your job?
At Optibus we have defined our values, to ensure we preserve our core principles alongside our global expansion. It took months of exploration amongst various groups of Optibus employees to get it right and be able to answer those questions: What makes Optibus special? What connects us? What drives us? The findings are four words: DETERMINED, CARING, INNOVATIVE and IMPACTFUL. But because four words alone cannot tell the full story behind them, we thought it would be best to let our employees tell us more about it.
Today, André Vieira Cyrino da Silva, Regional Director Brazil, shares some of his insights with us.
----------------------
What is your job at Optibus and what is a typical work day like?
I'm Regional Director, responsible for searching, capturing, relationship building and closing deals with clients here in Brazil. I also participate effectively in the implementations with customers with contracts already signed.


Why did you want to work at Optibus in the first place?
Mainly because of the sector in which Optibus operates. I have worked in the public transport sector for many years and I love working in it. I always wanted to work in a startup too and I believe that we are really improving public transport with our tool.


What do you enjoy most about working at Optibus?
I actually like everything. The company is wonderful, especially with the way they care so much about their employees. The people are also really nice and the company gives me all the tools to do my job.

Which Optibus value resonates with you most and why?
Certainly Determined. Because that's how I am and how I feel to deliver results and reach goals.


What are you passionate about at work?
I am passionate about the sector in which we work. I love urban mobility, public transport, and seeing how we can positively impact many people's lives. I really believe that technology can bring a lot of positive impact to this sector.


What are you passionate about outside of work?
My family for sure. My father, my mother, my brother and my three nephews.


Can you share an anecdote that describes how the values are reflected at Optibus?
Here in LATAM, teamwork is very important. We work very well together, with a common goal and everyone is always determined to help others, looking for innovative ways to positively impact our customers.


Any hobbies in life?
Do sports, go to the beach, watch movies, play cards
----------------------
At Optibus, we are determined to create innovative products that have a positive impact on the world because we care. If these values are yours too: Come join our team! Learn more at https://www.optibus.com/jobs