Part of Optibus Operations, Optibus' Driver App was designed for drivers, in partnership with drivers, to improve driver retention and recruitment.
Optibus is thrilled to announce the launch of the Optibus Driver App, a groundbreaking native mobile app and web tool designed to improve communication between drivers and the depot, leading to a better driver work experience and more dynamic operations.
Integrated with Optibus Operations, the Driver App was designed in partnership with drivers, for drivers, offering a single space for digitizing and centralizing depot-driver communications and work information.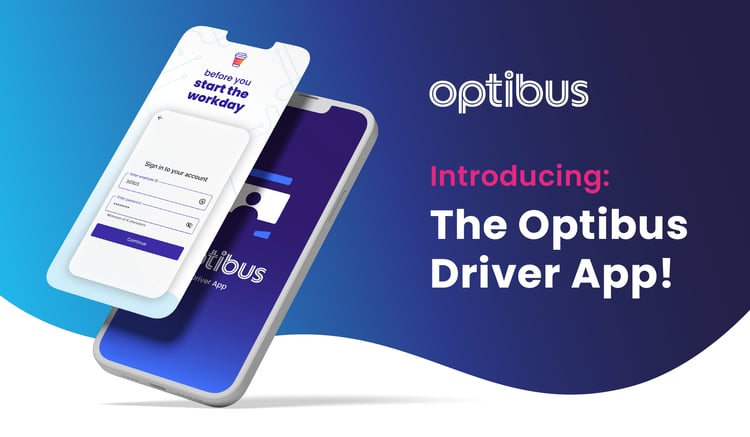 Public transportation only runs when there are drivers to put service plans and schedules into delivery. But the importance of the job is overshadowed by difficult work conditions, such as long hours and inconvenient shifts, and evolving workforce demands that make it increasingly hard to recruit and retain drivers. High rates of job dissatisfaction have produced driver shortages that negatively impact service reliability, passenger experience, and other staff members, who must work harder to make up for the lack of drivers. There is an urgent need to address driver dissatisfaction and make the job more appealing.
In their research and interviews with bus drivers to explore how to improve job satisfaction, Optibus identified two key driver challenges that are immediately addressable using digital solutions: depot communication and job-related information.
Driver-depot communication: The lack of a single, centralized form of communication with the depot is a major point of frustration for drivers. Pre-shift information, including start time and vehicle location, is scattered. Last-minute changes often are not communicated in a timely manner, creating a stressful and disruptive work environment. Drivers want to feel that their time is valued and that their voice is heard, especially when it comes to sharing insights into services and accounting for their shift preferences in work schedules. All this communication should occur on one platform that everyone knows to check for updates.
Access to key documents: Drivers find the limited access to documents a major inconvenience. While many industries have digitized work documents and centralized them on a single cloud platform, bus drivers feel they must contend with outdated practices, such as physical paperwork, inconvenient extra trips to access documents available only at the depot, and documentation that is lost or disorganized.


Optibus' Driver App was designed to help public transportation operators (PTOs) and public transportation agencies (PTAs) address these issues and improve driver retention and recruitment by creating a more modern, meaningful work experience. Leveraging cloud-native technology, the Driver App provides a professional, virtual space that connects drivers, depots, and documents - from anywhere - and enables quick and efficient communication about service changes, HR requests, and driver work preferences. It's one step forward in making driving an easier job.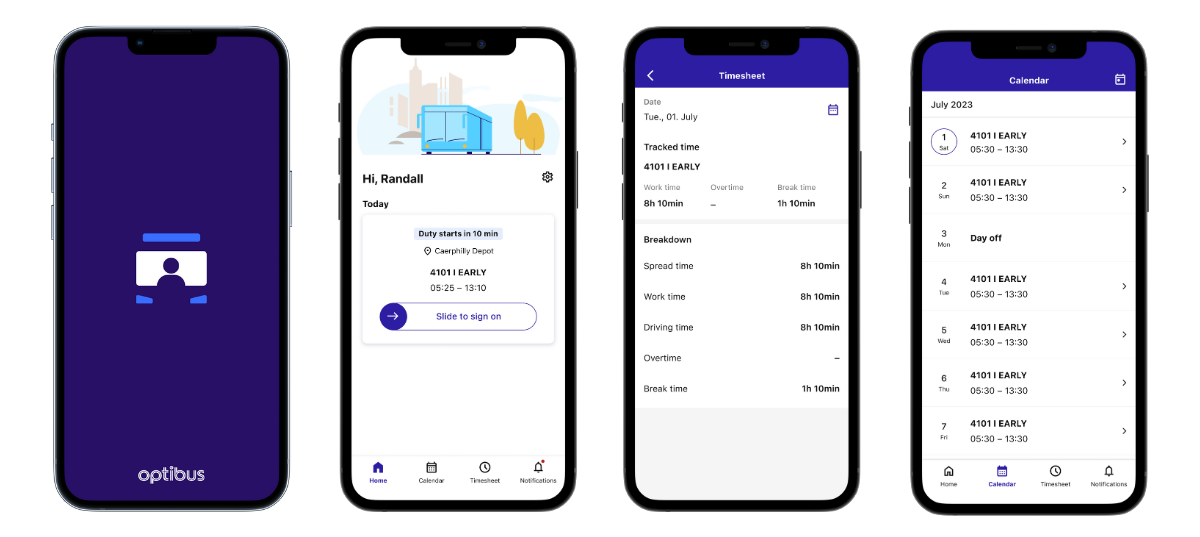 The Optibus Driver App gives dispatchers, allocators, and depots a range of abilities, including:
Help drivers prepare better for their shift: Give drivers all the pre-shift information they need to start their workday, when they need it.
Alert drivers in real-time: Communicate faster with drivers about shift changes, giving them more control over their day.
Create lifestyle rosters: Account for drivers' unique needs when creating assignments.
Digitize and centralize information: Get organized and go paperless by digitizing physical paperwork and storing all schedules, timesheets, and work history in one user-friendly digital space, accessible from anywhere.
Enable remote sign-ons: Save drivers time by moving from in-depot sign-ons that require extra travel to remote sign-ons via the app.
Balance driver needs with operational goals: Customize shift settings to align drivers' work preferences with depot requirements and business KPIs.
Integrate the app into operational processes: The Driver App communicates with payroll and HR systems, preventing operational disruptions.
Make data-driven decisions: The Driver App connects to Optibus Operations so users can assess how shifts impact costs, efficiency, and overall operations and make data-driven decisions that improve resource management and operational outcomes.
A design partner for the Driver App, T.S.T. - Transportes Sul do Tejo, S.A. in Portugal is one of the early adopters of the solution and has already launched it in their operations.
"We have received very positive feedback from our drivers about the Optibus Driver App. When we started using the app with a test group of drivers, the other drivers could not wait to also have access to it. The user stats show that drivers are using the app every day. Additionally, our schedulers and our controllers are also requesting it, as it reduces the number of calls and queries they receive from drivers, since drivers can see all the information they need on the app. All around, the Driver App is making the work experience better and more organized for everyone," said Duarte Cunha, Planning and Operations Manager at TST.
Amos Haggiag, CEO and co-founder of Optibus, said: "The Driver App marks a significant milestone in our journey to empower the people who power public transportation. By putting innovation in the hands of drivers, the Driver App helps create an excellent driver work experience and ensure a strong workforce for passengers. We are excited to see the positive impact that this technology will have on drivers and depots worldwide."
Getting started with the Optibus Driver App
The Driver App is compatible with Android and iOS devices and is desktop-friendly. The user-friendly, intuitive interface is of the kind that only native applications can provide and is suitable for users of all backgrounds. Extra support is provided by the Optibus Education and Customer Success teams, which work directly with clients to onboard drivers to the app. Driver App is free for download on Google Play and the Apple App Store, and available everywhere that Optibus Operations is available, together creating a powerful driver management system.
Interested in learning more about the Optibus Driver App? Click here to connect with an Optibus representative.
Sign up for our newsletter to be among the first to receive updates about forthcoming Driver App features, such as kiosk sign-on and bidding, rolling out in the near future.