Optibus is excited to debut the Performance Suite, our latest bundle of features designed to analyze, predict, and improve on-time performance (OTP) and boost the quality of public transportation!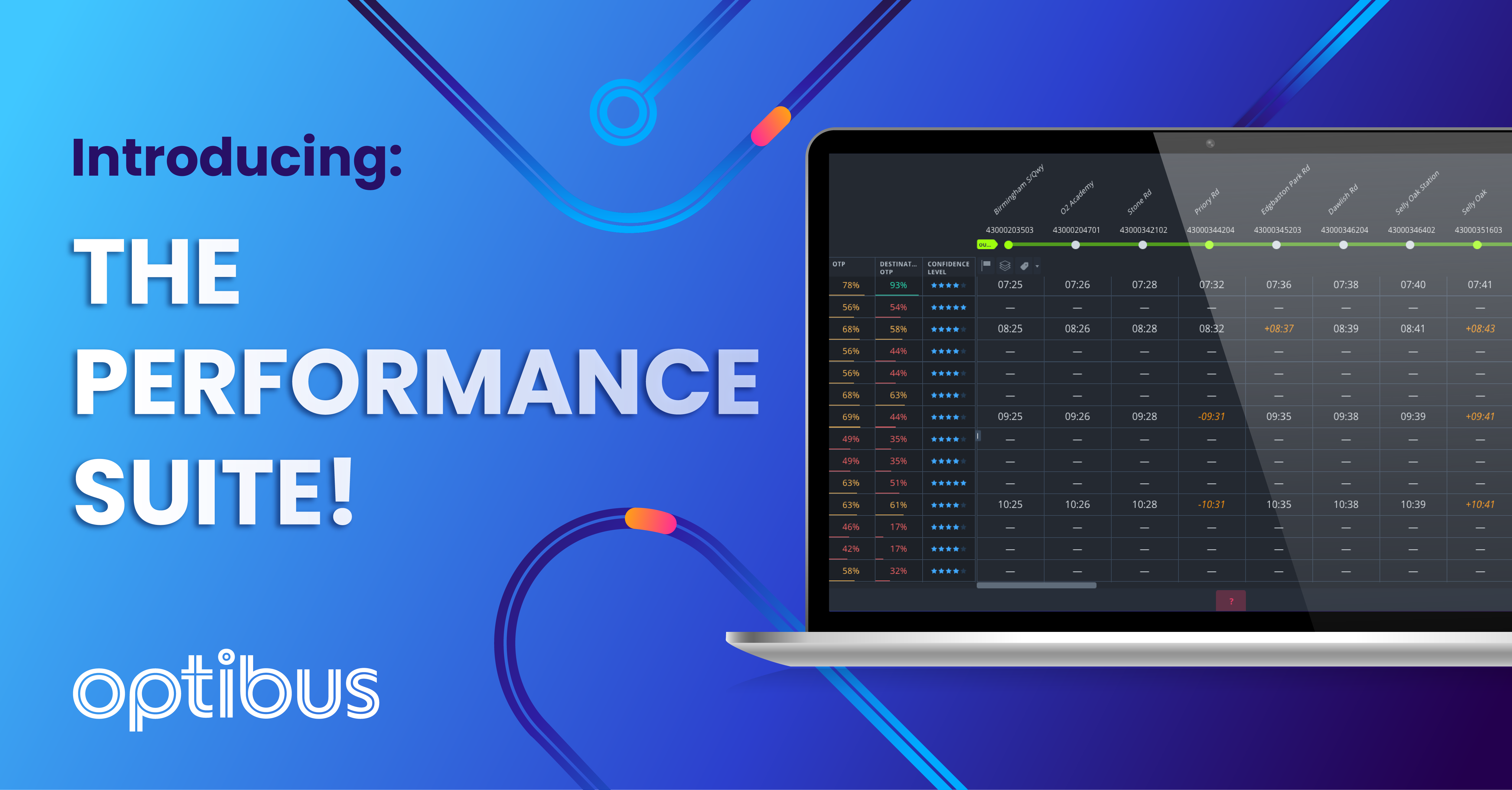 Creating accurate timetables for real-world settings is a difficult process. Even if timetables seem optimal, there is no way to know if they will run on time until services roll-out. In a survey of major public transportation agencies, services missed the on-time mark in as many as 56% of cases. When services do not run according to schedule, ridership suffers and transportation providers may be fined for poor performance.
Using real-time analytics through Optibus' partnership with data leader Ito World, Optibus' Performance Suite enables users to dig deeper into service data to understand where, when, and why issues occur, leading to better on-time performance and OTP predictions, higher quality passenger experience, and more operational efficiencies. Initial Optibus customers reported up to a 28% increase in overall OTP while maintaining peak vehicle requirements (PVR), thus saving them significant costs while increasing operational efficiency.
A demo of Performance Insights' (part of Optibus' Performance Suite) capabilities, including detailed stop and route analysis of performance data and vehicle replays.
Part of Optibus' Planning product, the suite packages together two new features: Performance Insights and Predictive Runtimes. Performance Insights gives users the advanced analytical capabilities needed to draw in-depth data from network performance and identify underperforming areas. For example, when handling passenger queries, users can use Intuitive Replay to gain insights into journeys, discover the root of the issue, and handle queries effectively.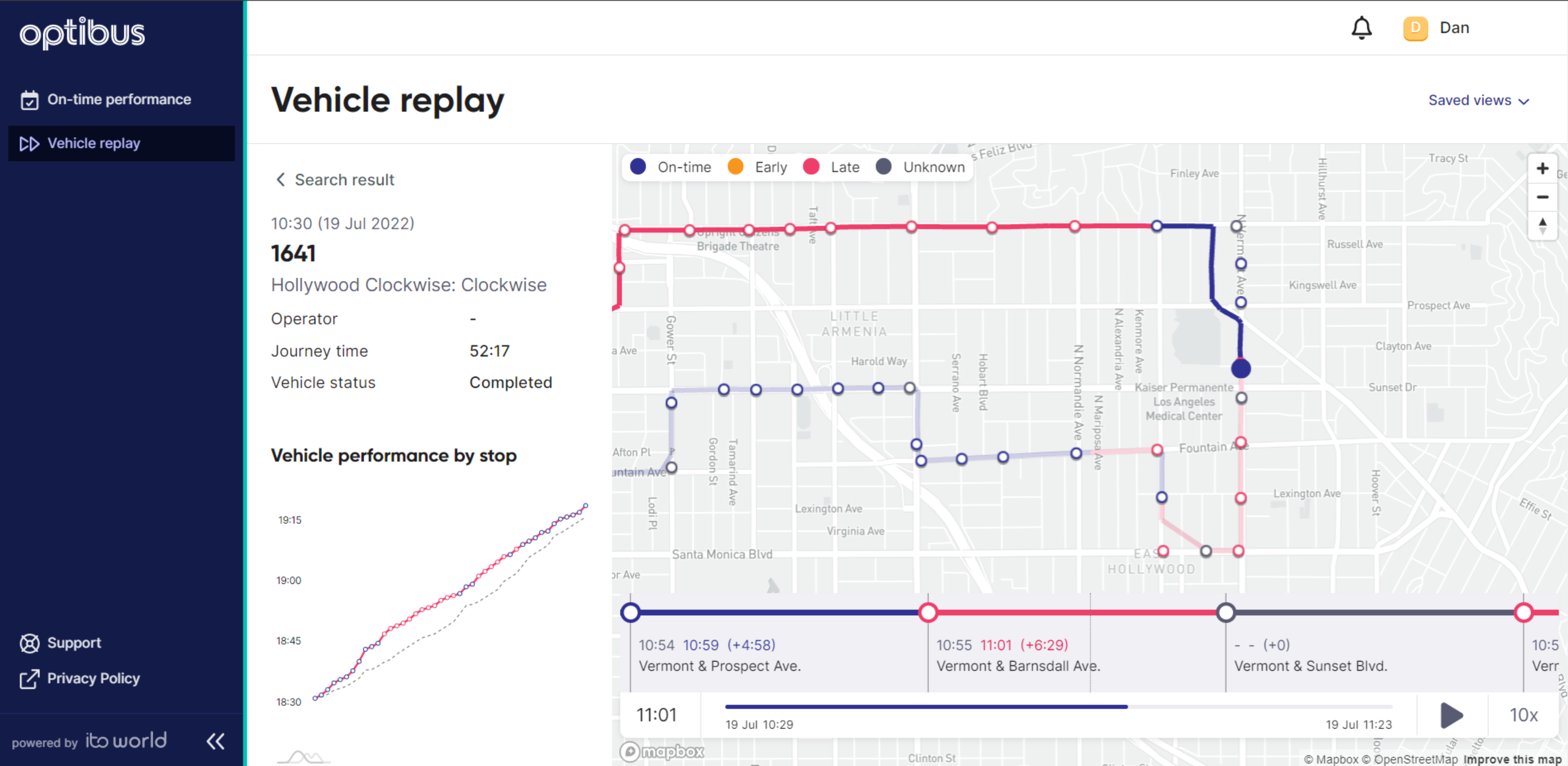 The Performance Insights feature shows in-depth insights into performance in the field, including vehicle replays of what happened throughout the course of the journey.
Using artificial intelligence, advanced algorithms, and data, Predictive Runtimes enables users to validate timetable quality, generate new running times and timetables that meet OTP goals (e.g. 90%), and predict on-time performance, even for new routes for which historic runtimes are unavailable. Unlike other tools in the industry, Predictive Runtimes does this while retaining — and even improving — operational efficiency.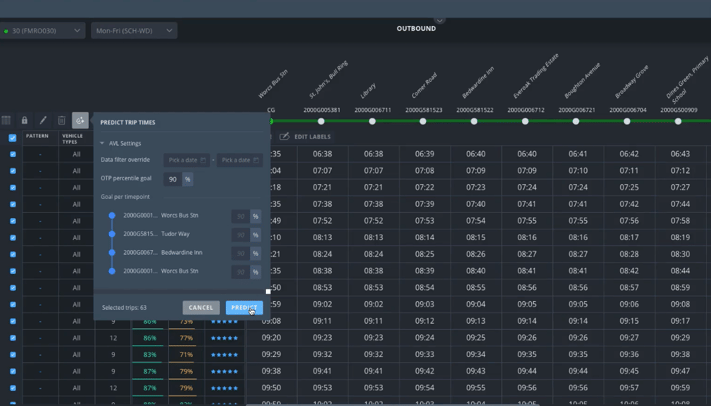 Predictive Runtimes uses historical AVL data (and more) to calculate accurate prediction scores, showing planners and schedulers the likelihood that their routes will run on time based on the timetables they've created.
"When services are reliable, people are more likely to make public transportation their primary mode of mobility and transportation providers are more likely to win future business. By drawing deeper insights from service data, public transportation providers can resolve issues that negatively impact on-time performance and deliver their best timetables yet," said Amos Haggiag, CEO and co-founder of Optibus.