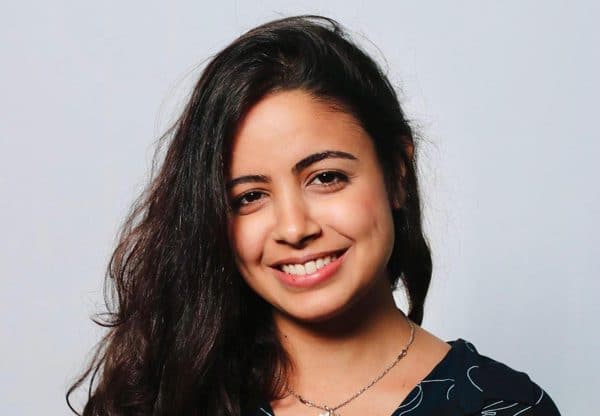 Maya Cahane, a back-end developer at Optibus, discusses what brought her to the field of technology and whether there is gender discrimination in the industry. This is a translation of an article that appeared in "People and Computers".
Name and Position: Maya Cahane, back-end developer in the algorithm team at Optibus
Time at Position: Two and a half years
Previous Positions: I served in the Israeli Army in Unit 8200 [a special intelligence unit]. During my studies, I worked as a back-end developer at a medical start-up called GeneSort.
Education: Bachelor's degree in Computer Science from Tel Aviv University. Currently a graduate student in Business Administration at Tel Aviv University.
Family: I live in Tel Aviv with my partner Tomer, a medical student, along with our dog, Joey.
What brought you to the field of technology?
My affinity for technology began when I was very young. I used to spend hours in front of the computer. The choice to take on 10 academic units in computer science for my matriculation came naturally to me and I really enjoyed it. From there, I went on to service in unit 8200, which was a meaningful and educational experience for me. I felt that a degree in computer science was the next step.
Technology plays a key role in our daily routine and shapes the lives of many people. I enjoy being a part of places where technology is taking humanity forward, in new, more developed, and better ways. Working at start-ups and companies that advance issues that are important to me, such as public transportation or medicine, creates great satisfaction and a sense of meaning in me.
Do you think there is discrimination against women in the industry?
I do not think there is intentional discrimination in the technology industry. Today, unfortunately, women are directed to less realistic occupations from an early age, and as a result there are not many women working in technological positions. Already in high school I was one of the few girls who chose to take on computer science, and it was also like this in the military and academic studies. In my case, I had parents who encouraged me and helped me feel that I was capable and that I had the skills to flourish in whatever profession I chose.
I believe the root of the problem lies in the fact that young girls do not feel comfortable choosing professions categorized by most of us as "male." Being in the minority is indeed a challenge, and it may be that the scarcity of young women in computer science leads to more girls being hesitant to enter the field. This creates and maintains a clear male majority in technological roles, which does not necessarily stem from discrimination.
I believe this can be changed, which is why I volunteer as a branch manager at She Codes – a community of women who aspire for 50% of all programming positions in tech to be occupied by women. I believe that at any age it is possible to take your first steps into the world of tech, which offers a wide range of roles and avenues for promotion and self-development.
Have you personally encountered discrimination in the industry based on your gender?
I have never encountered intentional discrimination against me, and certainly not on the basis of being a woman. When I first joined Optibus, I was the only female developer in my department, but I felt equal among equals. From the beginning, I felt that Optibus made great efforts to empower women in technological positions, and was constantly bringing in women for core technological positions. Today, two years later, there are many female programmers on the R&D teams, which is very gratifying