During #BlackHistoryMonth we highlighted some of the contributions of Black people to #transportation around the world. In this blog post, we summarize their stories.
Black History Month originated in the United States as a way to honor the contributions of Black Americans to society and celebrate their legacies. As a global company that promotes diversity and inclusion worldwide, we wanted to celebrate those legacies as well beyond the US by sharing some of these stories with our own community in public transportation.

This year's Black History Month theme was "Black Resistance", so we highlighted Black civil servants, leaders, and hometown heroes who have resisted racism in public transportation around the world, from Rosa Parks to Asquith Xavier. Each week we looked at an example from a different region of the world where resistance by Black people has led to greater equality.

Optibus is all about making public transportation better. Together. Part of that mission is to ensure "together" is actually "safe for all" which means we must take action to end racism everywhere, especially in our transportation systems. We hope you will join us on this journey and find inspiration in their stories and their impact and use that inspiration to take antiracist actions in your daily lives.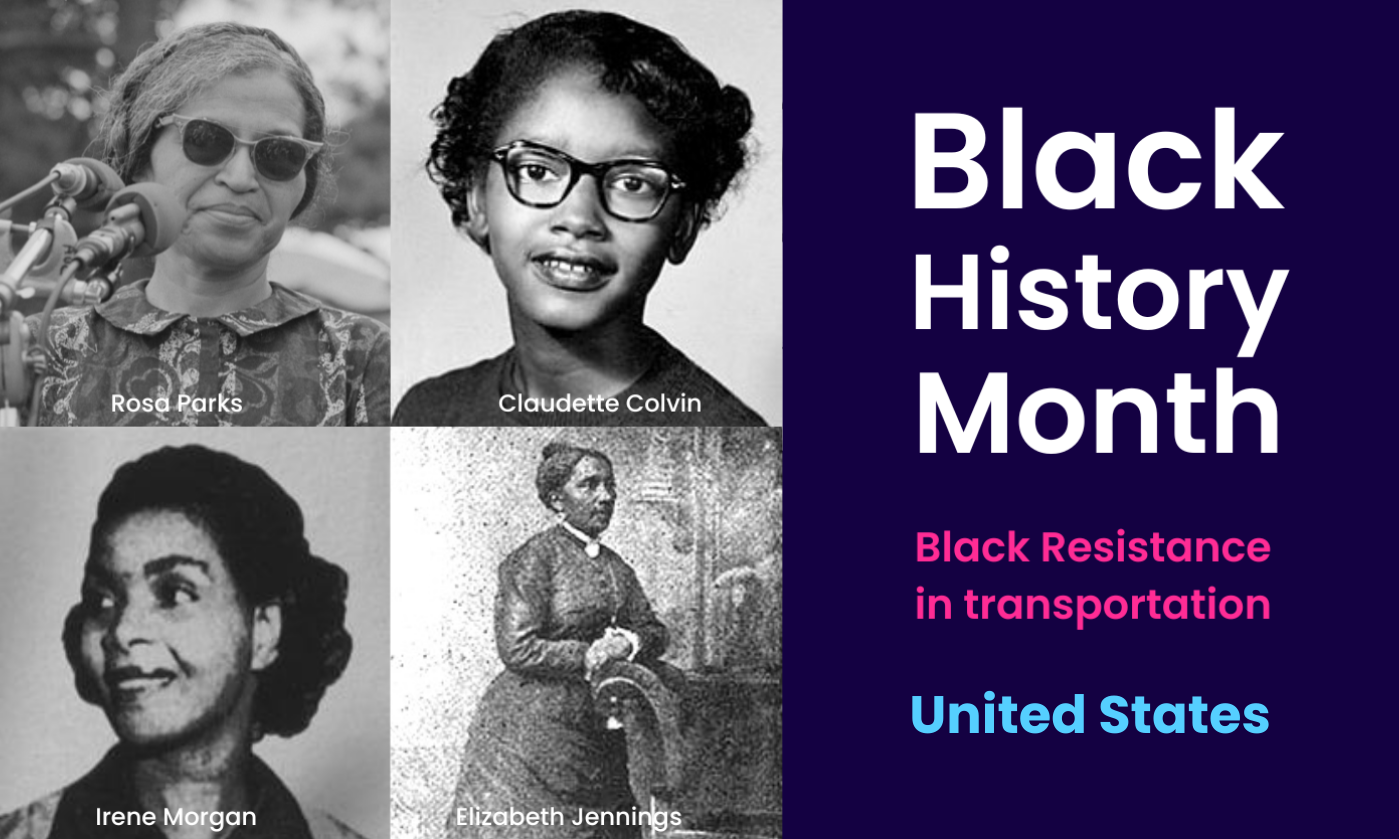 The women that fought for desegregation of public transportation in the US


Certainly the most well known person that was fighting for desegregation of public transportation is Rosa Parks. She is an icon of the civil rights movement in the US because of her refusal to vacate a seat on a bus in favor of a white passenger in Montgomery, Alabama.

On December 1, 1955, a white passenger demanded Black passengers vacate the reserved row of seats that they were allowed to use, only until one white person wanted to sit in that row. The rest of the passengers left their seats, but Rosa Parks refused. She was arrested for disturbing the peace, charged and fined $10 and ordered to pay $4 in court costs.

By the time the 42-years-old Parks boarded the bus in 1955, she was an established organizer and leader in the Civil Rights Movement in Alabama: "People always say that I didn't give up my seat because I was tired," wrote Parks in her autobiography, "but that isn't true. I was not tired physically… No, the only tired I was, was tired of giving in."

At the same time, Martin Luther King, a Baptist preacher and a central figure in the battle for civil rights, organized the Montgomery Bus Boycott. Rosa Parks had an active role in this. After more than a year of resistance and in spite of aggressive response, the Boycott forced authorities to desegregate buses and trains and is credited with sparking many other protests of the civil rights movement in America.

Rosa Parks was part of a larger movement of Black women who resisted. A community that included 15 year old Claudette Colvin who was arrested for the same crime earlier that year in Montgomery, Alabama. Her testimony in Browder v. Gayle helped end bus segregation in Alabama.

Eleven years earlier, on July 16, 1944, Irene Morgan defied Virginia authorities by refusing to change her seat on a segregated bus in Virginia, challenging racial segregation in interstate bus and rail transportation.

Even earlier, Elizabeth Jennings' case sparked the end of transportation segregation on New York City streetcars. On July 16, 1854 Elizabeth Jennings was running late for work as an organist. She hopped on a streetcar labeled "whites only", but the conductor ordered her off. When she refused, the conductor and a policeman forcefully removed her.

After winning her lawsuit that ensured the desegregation of the streetcars, Elizabeth Jennings' family and church formed the Legal Rights Association, which challenged and won cases leading to the desegregation of New York City's public transportation - 100 years before the fight in Alabama.

All of these women, through their courageous actions, helped end racial segregation in public transportation.
The 1957 Alexandra Bus Boycott in South Africa

During apartheid in South Africa, Black residents were segregated into townships that were far away from city centers and places of work and thus buses were, for many, the primary mode of transport. Rate hikes would deeply affect every household's bottom-line.

In 1957, the Public Utility Transport Corporation (PUTCO) in South Africa raised the bus fare from 4 pence to 5 pence for commuters in Johannesburg. 80 percent of Johannesburg Africans lived under the poverty line, and so the raise was far more than they could afford.

On 7 January 1957, these Africans in Alexandra launched a bus boycott exclaiming, "Azikhwelwa!". "We shall not ride!" was the rallying cry as they walked the 22 miles from Alexandra to Johannesburg rather than taking the bus.

On the same day the Alexandra People's Transport Action Committee (APTAC) was formed to organize the boycott. The African National Congress (ANC) had the largest number of representatives, including Alfred Nzo, Thomas Nkobi and Keable Pelo. Florence Mphosho, Muriel Sodina and Virgina Mngoma were representing the ANC Women's League. Dan Mokonyane joined the boycott committee as Publicity Secretary and then later as the Secretary of the Organizing Committee.

By the second day of the boycott the sentiment had spread to Sophiatown, in Johannesburg, and Lady Selbourne, in Pretoria. During the second week of the boycott, South Africans in Moroka and Javabu began to boycott in sympathy even though the bus fare had not been raised in these townships. At the peak of the boycott, 70,000 residents refused to ride the local buses.

The reaction from the public was generally sympathetic toward the boycotters. White motorists helped the boycotters by providing them with daily "lifts" to destinations. The police responded to the boycott with harassment, stopped cars to search them and arrested the boycotters on minor charges.

Oliver Tambo, the African National Congress leader, and Nelson Mandela, the ANC deputy leader, sent messages of encouragement to the boycotters. Although the boycott had initially started as a response to the raise in the bus fare, the campaign soon encompassed the issue of apartheid.

After months of negotiations a compromise was reached on April 1. The boycotters bought bus tickets stamped at 5 pence, even though the boycotters had only paid 4 pence. A permanent solution was reached when the government introduced a bill that doubled the levy on employers to subsidize African transportation, and the 4 pence rate was restored.

The Alexandra Bus Boycott is generally recognized as one of the few successful political campaigns of the apartheid era. A reminder that mobility justice is not a new concept, but one that we must strive for daily.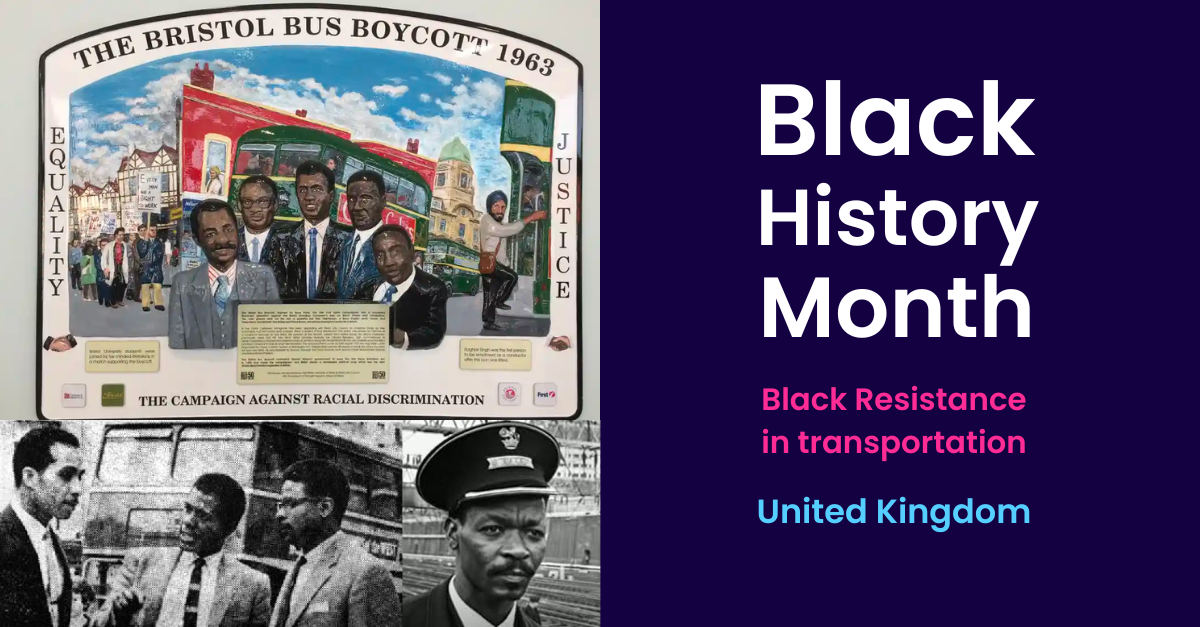 The Bristol Bus Boycott 1963
Discrimination is a constant in the lives of Black people. The 1960's was no different in the UK and job opportunities were scarce creating an even greater divide. The Bristol Omnibus Company, which was owned by the British government, did not hire Black drivers or conductors. The management blamed the "color bar" (the social system that prevents Black, brown, multi-racial, and Afro-Indigenous people from accessing the same rights, opportunities, and facilities as white people within systemic white supremacist social constructs) on the bus workers union. Despite denials that a colour bar existed, union members expressed concern that a new competitive source of labour could reduce their earnings.
In reaction, four young West Indian men - Roy Hackett, Owen Henry, Audley Evans, and Prince Brown – formed the West Indian Development Council (WIDC). In 1962, the group was joined by Paul Stephenson, who soon became the spokesperson.
To prove that the color bar existed, Stephenson arranged an interview for a job as conductor at Bristol Omnibus Company for a well-qualified job applicant named Guy Bailey. As soon as Guy walked in through the doors of the bus company his interview was cancelled because he was Black.
In response, Stephenson got the WIDC to call for a boycott of Bristol's buses.
Support for the boycott spread as students from Bristol University staged a demonstration in the city centre. Soon national and international media covered the Bristol Bus Boycott. High-profile politicians lent their support to the campaign, including Labour Opposition leader, and future prime minister, Harold Wilson.
On 28th August 1963 the Bristol Omnibus Company declared that with immediate effect, complete racial integration of Bristol's bus crews would be allowed.
The Bristol Bus Boycott paved the way for the Race Relations Acts of 1965 that made discrimination on "grounds of colour, race, or ethnic or national origins" unlawful in public places in Great Britain. But it still did not cover workplaces.
In 1966 Asquith Xavier worked as a guard for British Railway at Marylebone station when he applied for a promotion and transfer to work at Euston station, but was rejected. A letter from a staff committee explained that it was because of his skin colour. Xavier persisted. A union official publicised the rejection by writing a letter of protest to the head of the National Union of Railwaymen on his behalf. Two members of parliament wrote to the Secretary of State for Transport, Barbara Castle, to ask her to end racial discrimination.
On 15 July 1966 British Railways announced that colour bars at stations in London had been abandoned. Xavier was offered the job.
His campaign led to a strengthening of the 1965 Race Relations Act, which was extended in 1968 to make it illegal to refuse housing, employment or public services to people because of their race or ethnic background.
It took many brave people to achieve this outcome as the broader fight to end injustice everywhere continues. Ask yourself today what steps are you taking to improve equity for your own coworkers?
---
Author: Anna Mohn
Contributors: Rayah Smith, Crissy Ditmore