Optibus is thrilled to announce two new appointments to its North America leadership team: Angela Miller as General Manager, North America and Waiching Wong as Director of Customer Success, North America.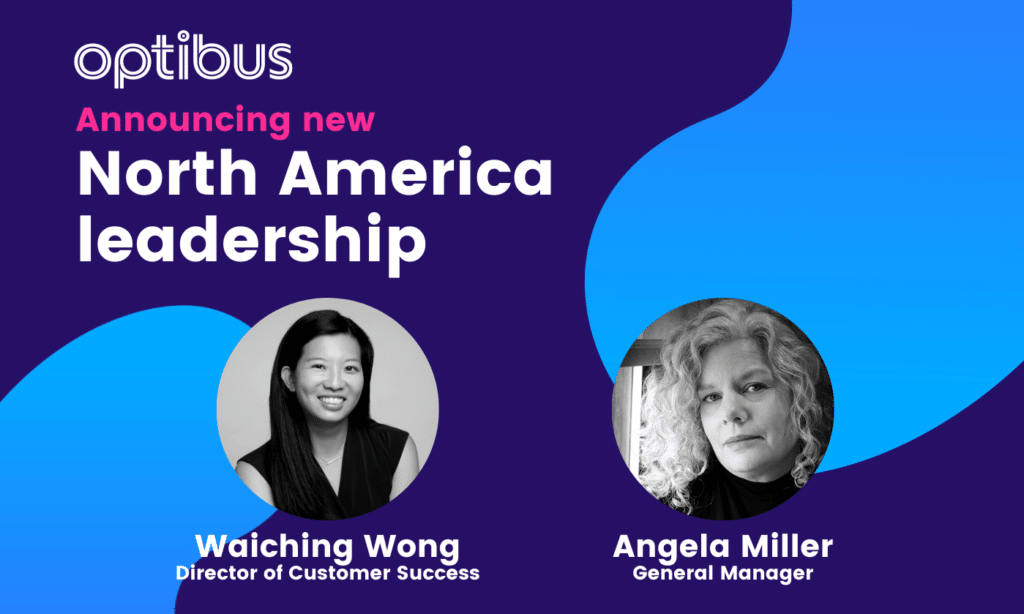 For more than three decades, Angela led technology, mobility, and sustainability teams in the public and transportation sectors. She began her career as a map maker and environmental scientist in the private and public sector in the State of Texas. Angela deepend her commitment to public transportation at the North County Transit District (NCTD) as CIO/CTO and Chief Sustainability Officer, at Cubic Transportation Systems as Director of Worldwide Customer Solutions, and through strong participation in the American Public Transportation Association (APTA) as multiple committee chairs, board of directors, and Leadership APTA 2011. She helped build Deloitte Consulting's public transportation practice in the US before joining Optibus.
As the General Manager of North America, Angela leads all of Optibus' North America operations, spanning sales, partnerships, customer success, and more. Angela will drive the expansion of Optibus in the region, increasing adoption of our end-to-end software platform across the public transportation industry and helping clients to make their operations more efficient, equitable, and sustainable.
"Public transportation is the backbone of our cities and Optibus provides some of the best tools on the market for helping agencies and operators optimize those services. The industry faces dramatic challenges, both in recovering from pandemic-related ridership declines and ongoing business model, equity, and financial complexities. I am excited to have the opportunity to work with Optibus to bring to the market tools that directly address these challenges," said Angela.
Working alongside Angela, Waiching is a transit professional who is passionate about enabling agencies, municipalities, and operators to provide high quality, equitable services, and who brings to Optibus a unique background spanning government, transportation, consulting, and technology. She is the former Head of Partner Success at Uber Transit and previously served as both a public-private partnerships (P3) transaction advisor for state and local governments and as a management consultant to the US Department of Transportation. Her fondest memories are of working as a local transportation planner in the District of Columbia, an experience that was foundational to her understanding of how cities operate and that sparked her passion for equitable transit. Waiching received her Masters in City and Regional Planning from Cornell University and a Bachelors in Political Economy from the University of California, Berkeley. She is currently a member of the Leadership APTA Class of 2022.
Waiching oversees all North America client relationships, working to understand client challenges, suggest solutions using Optibus' software, and engage with Optibus users over the long-term to ensure successful implementation and satisfaction. She will also develop and lead Optibus' customer success team and use customer feedback to shape and improve Optibus' offerings.
"I'm excited to join a growing team that is passionate about improving outcomes for transit agencies and their customers through technology that tackles existing and emerging industry challenges. I have always been impressed by how Optibus' clients feel that Optibus listens to their needs and supports them. Helping our clients realize improvements at the intersection of equity and transit is a thrilling proposition that I'm honored to be a part of," said Waiching.
"We are thrilled that Angela and Waiching have joined Optibus in North America. Their talent and experience are major assets in scaling the company and bringing success to our clients, and their passion for improving the industry made them a great match for our company. I am excited to see so many transit and technology experts on the Optibus team, and I am excited to work with Angela and Waiching to grow our team and tackle the challenges that our clients and their passengers face." said CEO and co-founder Amos Haggiag.
Waiching and Angela join a growing team of women in leadership focused on improving public transportation across North America, including Crissy Ditmore, Head of Public Policy, based in the U.S. and Jennifer Bentley, VP Global Marketing, based in Toronto, Canada.