Cities coming out of lockdown have many big-picture transit issues to consider as they plan their COVID-19 exit strategies, such as how to bring riders back, how to match gradual changes in demand with gradual transit changes, and how to accommodate the need for social distancing.
Now transit agencies and operators also have a better way than ever to heed the lessons of both the COVID-19 pandemic and the renewed calls for equality and justice – by examining the impact of transit service on the residents who need it most.
Optibus, which was selected by the World Economic Forum today as a 2020 Technology Pioneer, is releasing an impact analysis tool to help cities visualize the impact of transit changes on the surrounding community.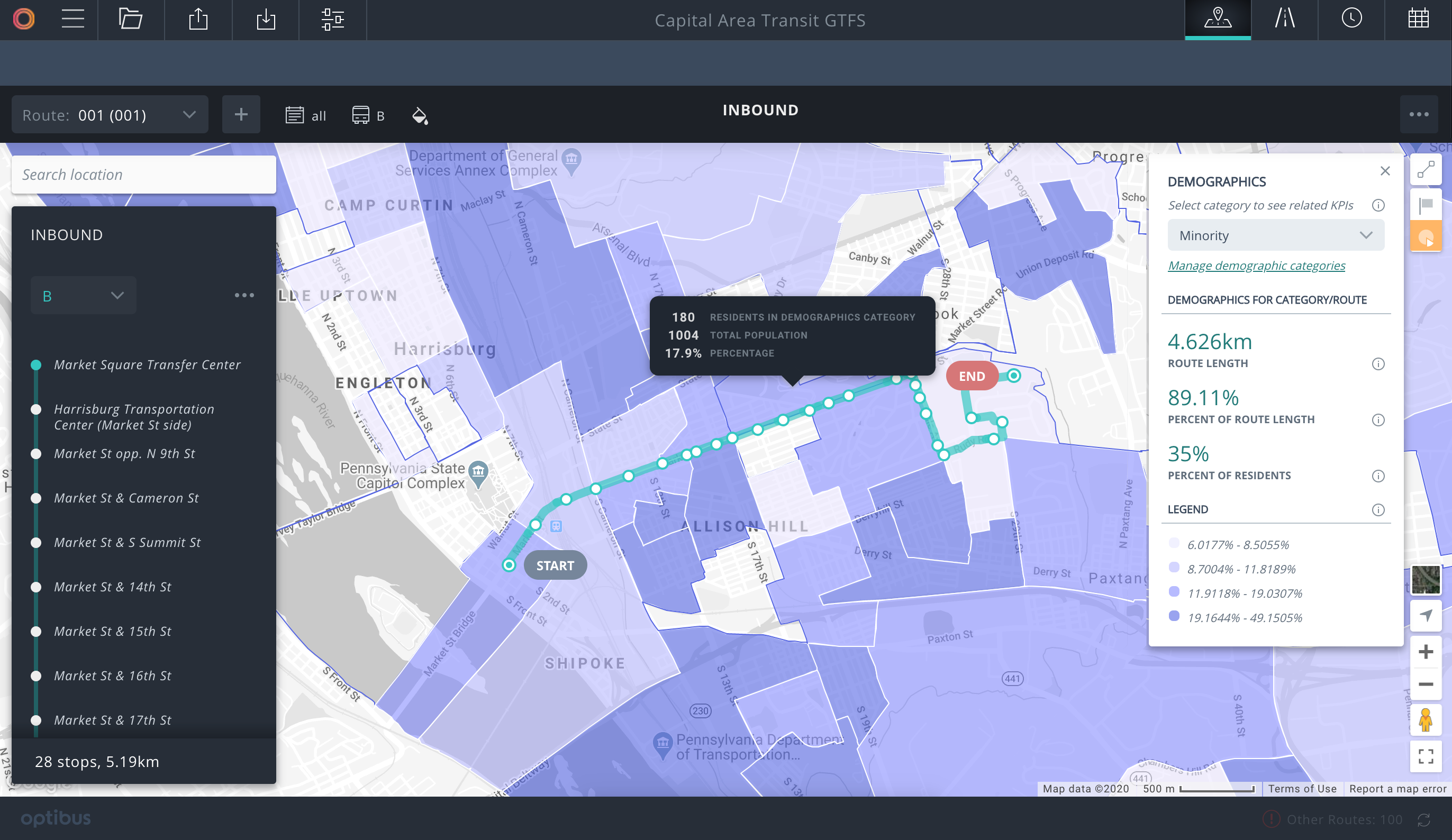 The tool, which is fully integrated with Optibus' transit planning and scheduling capabilities, enables cities and transit operators to visualize on the map how route changes will affect selected demographic groups living along those routes. Transit officials will also be able to seamlessly plan routes, schedules and rosters using the impact analysis, all on a single platform.
"Public transit isn't just about vehicles, but about the cities and towns where transit provides an essential service for residents," said Optibus CEO and co-founder Amos Haggiag. "By helping cities analyze the impact of their existing transit service and the service changes they need to make, especially as we begin easing out of lockdown, Optibus makes it easier for transit agencies and operators to incorporate impact analysis into their everyday planning and scheduling."
Examining the effect of service changes on the city's population can help transit providers answer critical questions like: If service was reduced on certain routes, who lives along those routes? Do those residents still have regular access to the places they need to go?
U.S. transit providers can use Optibus' impact analysis tool to help them meet the federal Title VI requirements to conduct service equity analyses for major service changes. The tool uses up-to-date nationwide data about demographic groups in the U.S., which transit providers can customize based on their needs.
Since the tool is a built-in component of the planning and scheduling process, transit providers will find it easy to use on a regular basis, in line with the broader spirit of equality and not just the narrow requirements of federal regulations. They can also use the impact data to seamlessly compare multiple scheduling scenarios and view business metrics like peak vehicle requirement and total cost (including vehicle and driver costs) – giving them the information needed to make good decisions fast.