The new Santiago office, Optibus' second office in Latin America, will support customer success in the region.
Optibus, the cloud-native solution for mass transport planning, scheduling, rostering, and operations, has opened its first office in Chile, in the capital city of Santiago. The opening follows Santiago's sign-on as the 1000th city worldwide to use Optibus' software platform.
Headed by Alvaro Iriarte Sanderson, Optibus' Regional Director, South Cone, the Santiago office will support regional pre-sales, sales, and customer success functions across Latin America. Regional customers using Optibus include Metbus, the largest public transit operator (PTO) in Chile operating 11.6 million monthly journeys in Santiago, with the largest eBus fleet in the Americas.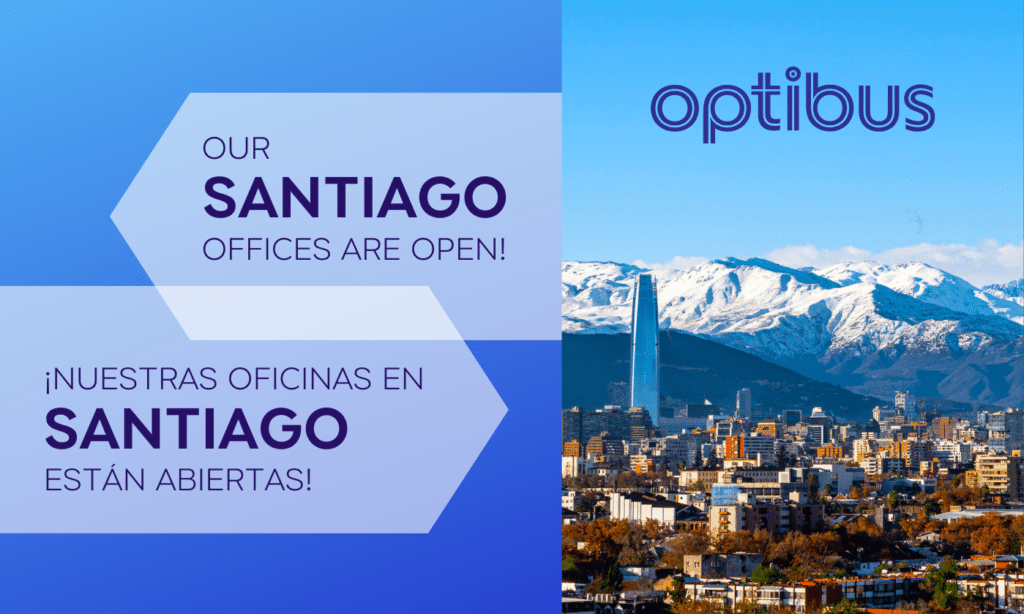 "We are excited to be on the ground in beautiful Santiago, increasing Chile and Latin America's access to the world's leading optimization technology for public transportation. Our team is here to support the operators and agencies in meeting their business goals, including cost savings, lower emissions, improving service quality and accessibility, and adapting to changing rider demands," said Ronen Avraham, Optibus' General Manager, LATAM.
Home to some of the world's fastest growing cities, Latin America faces a range of urban challenges. Bogota, Lima, Mexico City, Rio de Janeiro, and Santiago de Chile are among the most congested cities worldwide, in some of the most polluted countries. Public transportation can help address this, but only if bus operators and agencies possess the digital tools needed to increase the efficiency and accessibility of services. That will become increasingly complicated as fleets grow to match urban demand and as electric bus specifications, including charging and range anxiety, are added to the mix.
"Abundant, efficient, and electric public transportation must be part of the strategy to fight pollution, congestion, and inequity, which will escalate with urbanization," said Amos Haggiag, CEO and co-founder of Optibus. "Optibus looks forward to making public transportation the mobility mode of choice in Latin America, and leveraging our eBus management systems to help Chile fulfill its commitment of having a fully electric fleet by 2040."
Optibus' Chile office is located at El Golf 40, Las Condes, Santiago. It is Optibus' second office in Latin America, after the opening of its São Paulo, Brazil office. Through its work with Metbus, Optibus is poised to power 25% of public transport in Santiago.
About Optibus
Optibus is an end-to-end, cloud-native solution for transportation planning, scheduling, rostering, and operations, powered by artificial intelligence (AI) and optimization algorithms. Transportation agencies and operators in 1000 cities worldwide trust Optibus to increase efficiency and service quality, promote transportation equity, reduce emissions and costs, and modernize their operations. Learn more: www.optibus.com