Arriva Italia, Italy's largest private bus operator and the Italian holding of leading pan-European transport company Arriva, is intensifying its focus on digital transformation through the use of Optibus' AI platform for public transport.
Arriva Italia, which manages public transport services for 2,500 vehicles and over 100 million kilometers, is poised to use Optibus' cloud-native software to grow its business, becoming more competitive, efficient and agile despite the challenges of COVID-19 and rapidly shifting passenger demand. This will serve passengers better by improving the quality of its service while also increasing operational efficiency.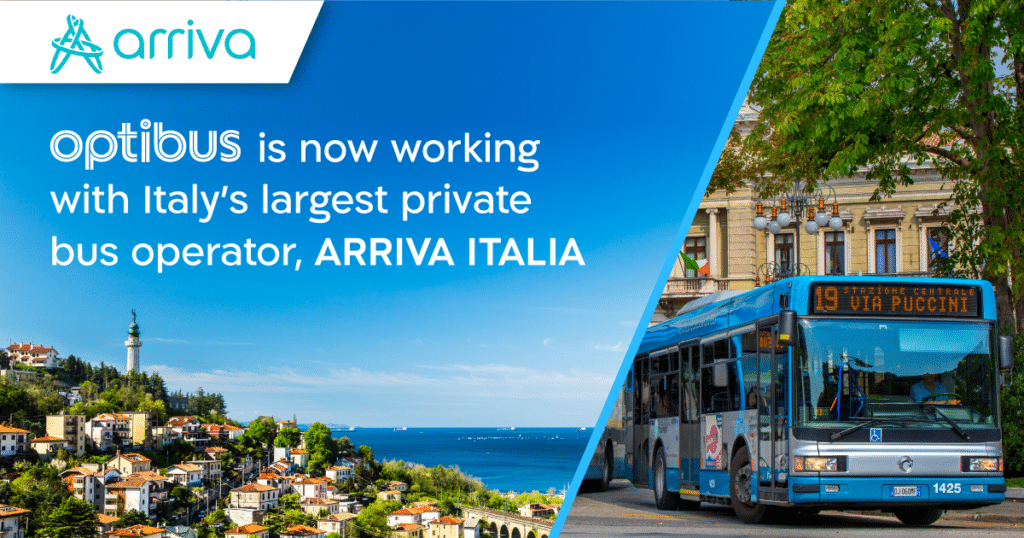 One of the tools that will enable Arriva Italia to determine the highest-quality and most efficient schedules and rosters is Optibus' rapid scenario creation for scheduling and roster optimization. The speed and power enabled by proprietary optimization algorithms and distributed cloud computing will greatly reduce the time it takes to create optimized schedules, making it possible to visualize many different scenarios and select the one that best fits passenger needs while reducing costly inefficiencies.
The use of Optibus will also significantly improve Arriva Italia's ability to efficiently operate all-electric or mixed fleets across Italy. Optibus' electric vehicle scheduling system models multiple scheduling scenarios that take into account electrification-specific challenges such as range limits and variation in chargers, charging stations and batteries to maximize service mileage for electric vehicles while staying within range.
The Optibus platform's ease of use and KPI dashboard will also enable faster and better decision making.
"The world of public transport is changing, with countries across Europe and elsewhere heading toward a more sustainable and digital future, combined with a massive shift in passenger demand since the pandemic outbreak," said Angelo Costa, Arriva Italia's Managing Director. "Different times require different methods, and the flexibility to meet new challenges. At Arriva Italia, we have always wanted to achieve the highest quality of service, and the difficult months that have passed have been yet another proof of our attention and efficiency. We want to look to the future in the best way, with the right technology and the best tools. Optibus is an agent of change, and Arriva Italia is excited to partner with Optibus as we embrace the future of public transport together."
"At Optibus, we love partnering with public transport leaders that recognize the value of innovation and the importance of agility, and we are thrilled to be working with Arriva Italia to bring that innovation and agility to Italy," said Optibus CEO Amos Haggiag.
ABOUT ARRIVA ITALIA
Arriva Group – with a total of 46,000 employees – transports 2 billion passengers every year in 14 countries, generating annual revenues of 5 billion euros and offers modal solutions by road and rail, mainly referring to mobility services.
Arriva Italia is today among the top operators in the sector of Local Public Transport by road, with approximately 100 million km of annual mileage and 360 million euro of managed revenues, 3,500 employees and a fleet of over 2,500 buses (holding numbers including all subsidiaries).
Arriva Italia operates directly as an operating company in Lombardy, Piedmont, Valle d'Aosta. Instead, it has shares of companies operating in Veneto, Friuli Venezia-Giulia and Como.
ABOUT OPTIBUS
Optibus is an AI platform that brings much-needed innovation to the essential mobility mode at the heart of our cities: public transportation. A cloud-native SaaS company founded in 2014, Optibus powers complex transit operations in over 450 cities around the world, and has been recognized by the World Economic Forum as a Technology Pioneer and by Gartner as a Cool Vendor. It has offices in Tel Aviv, London, New York, Chicago, Seattle, San Francisco and São Paulo.
(www.optibus.com | info@optibus.com)
Read More: